Uncategorized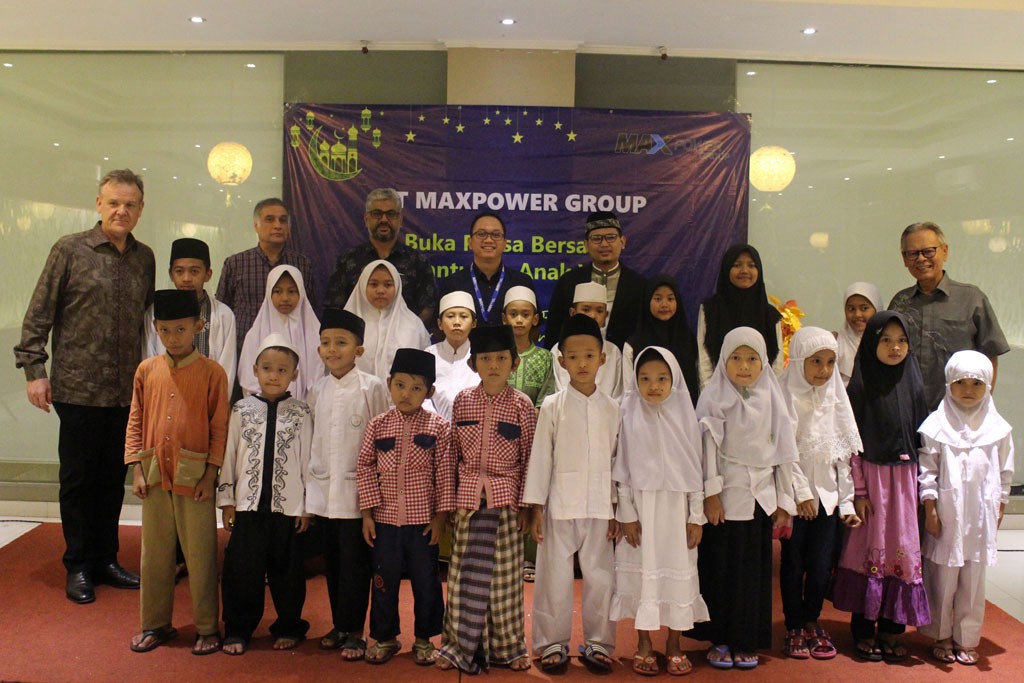 Buka Bersama Maxpower/ Maxpower Ifthar Dinner
Di Bulan Ramadhan yang penuh dengan hikmah dan keberkahan, tahun ini Maxpower Group menggelar Silaturahim, dan Buka Bersama dengan Anak yatim.
Agenda positif ini juga merupakan bagian yang kepedulian sosial Maxpower terhadap lingkungan sekitar terutama kepada anak –anak yatim piatu yang tentunya membutuhkan perhatian dan bantuan.
Berlokasi di Rumah Makan Lembur Kuring, Bumi Serpong Damai (BSD), pada hari Jumat, 24 Mei 2019, Maxpower bersama segenap jajaran manajemen dan karyawan bersilaturahim dan berbagi dengan mengundang sekitar 20 anak yatim dari Yayasan Panti Asuhan Al Ikhwaniyah, Lengkong BSD untuk turut berbuka bersama .
Turut hadir dalam acara ini, Komisaris Bp. Erry Riyana Hardjapamekas, CLAO Bp. Arie Wibisono dan Pimpinan Navigat Energy, Bp. Nils Hansen.
Dengan mengambil Tema 'Berbagi berkah Ramadhan, hadirkan senyum untuk Sahabat', acara dibuka dengan pembacaan ayat suci AlQur'an dan terjemahannya. Dilanjutkan sambutan yang disampaikan oleh CLAO Maxpower Bp. Arie Wibisono.

Dalam sambutannya, Bp. Arie menyampaikan rasa syukur atas kebersamaan yang terjaga di Maxpower untuk bersama – sama dalam menyongsong masa depan yang lebih baik terutama dengan adanya perubahan kepemilikan pemegang saham Maxpower yang terjadi pada akhir Desember 2018. Dalam kesempatan tersebut beliau juga menyampaikan telah direalisasikannya kebijakan perusahaan dalam penyesuaian remunerasi secara bertahap pada 2019 untuk level staff dan akan dilanjutkan untuk level berikutnya ditahun mendatang. Manajemen sangat menghargai komitmen dan dedikasi karyawan yang selama ini bersama perusahaan dalam kondisi apapun.
Acara dilanjutkan dengan tausiyah Ramadhan yang berisi tentang rasa syukur atas nikmat yg kita dapatkan dan persiapan untuk kembali pada kehidupan kita setelah di dunia ini.
Setelah itu, acara dilanjutkan dengan menghadirkan anak yatim untuk turut bersama-sama berbuka puasa dengan karyawan Maxpower dilanjutkan dengan pemberian santunan oleh manajemen kepada anak-anak yatim tersebut.
Acara ditutup dengan do'a, dan foto bersama manajemen, seluruh karyawan yang hadir, dan anak yatim.
In the Fasting Month of Holy Ramadhan, at Friday 24 May 2019, Maxpower Group held Engagement and Ifthar Dinner with the Orphans.
This is positive agenda as part of Maxpower's Social Responsibility with the community especially for the orphans who need care and help.
With located in Lembur Kuring Resto, BSD, Maxpower invited management, and the employees to have engagement and Ifthar Dinner with 20 orphans from Al Ikhwaniyah Orphanage Foundation, Lengkong BSD. Maxpower's Commissioner Mr. Erry Riyana Hardjapamekas, CLAO Mr. Arie Wibisono and Navigat Energy Leader Mr. Nils Hansen were attended to this event.
With theme of agenda 'Berbagi berkah Ramadhan, hadirkan senyum untuk Sahabat', be opened with recite reading and translation of Holy Quran and following after that was speech from the CLAO, Mr. Arie Wibisono.
As spoken, Mr. Arie was feeling grateful for internal Maxpower togetherness and will facing brighter future especially after new shareholder coming in as per December 2018. He explained that part of the grateful, there was policy in placed in term of remuneration adjustment in 2019 with starting for staff level and will be following for other level for the following years.
Management is appreciated for the commitment and dedication of the employees together with the company in any situation.
The following agenda was speech form the Ustadz speaking about gratitude and our preparation for the living after the life.
After the speech from the Ustadz, the orphans joined to the agenda and enjoyed Ifthar Dinner together with the employees. Following after that Maxpower management giving some charity gift to them.

The agenda was closing by praying together and take some pictures for whole attendees.