Internal Program 2020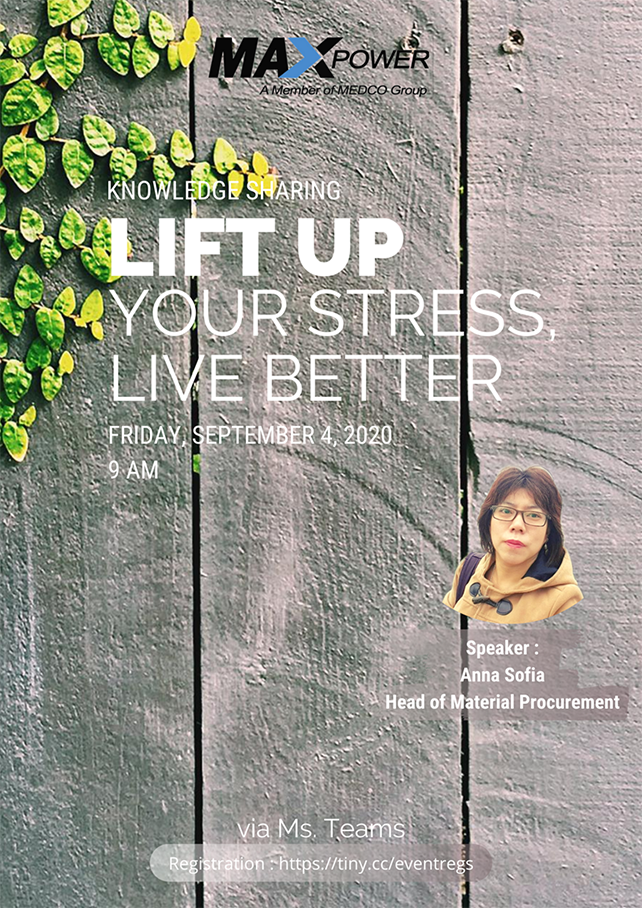 Knowledge Sharing "Lift Up Your Stress & Live Better"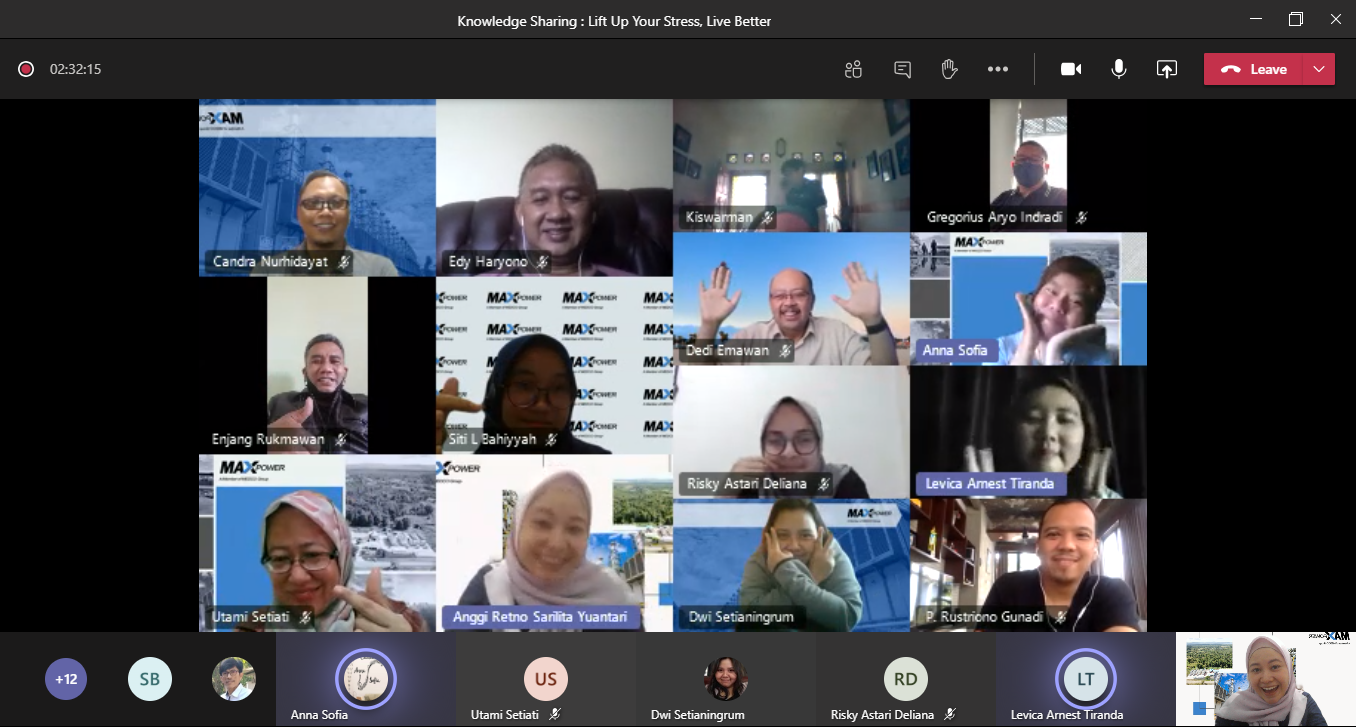 Often problems arise because employees and the company are not in sync with their movements and steps. As a result, there is a mutually demanding work relationship that can harm all parties, (both the company and the employees themselves). It is not surprising that in the end, the quality of human resources expected by the company does not match expectations.
Especially during a pandemic situation like this, employees often experience stress, depression, burn-out, overwhelmed, even mentally disturbed due to not being able to control their thoughts, feelings, and souls at work. In fact, mental health should not be neglected at work. Meanwhile, the problem that most often occurs in workers is stress.
Therefore, Maxpower Group held Knowledge sharing with theme "Lift Up Your Stress, Live Better" which was held online on Friday, September 4, 2020 at 09.00 WIB. Together, the participants were learned from the speaker, Ms. Anna Sofia, as the Head of Material Procurement Maxpower Group to be able to release emotions for a moment from the hustle and bustle of work pressure, in order to be productive and lead an adaptive life.
If we can't control our emotions, all things will affect life and influence productivity, creativity, and work relationships, of course this problem affects the company too. This condition also often makes many workers work as is. They believe that modest work is enough, without the passion and desire to give their best.
Knowledge Sharing sessions will be held regularly, every once in a week with fun and educational themes!
Sering kali persoalan timbul akibat karyawan dan perusahaan tidak sinkron gerak dan langkahnya. Akibatnya, terjadi hubungan kerja yang saling menuntut yang dapat merugikan semua pihak, baik perusahaan maupun karyawan itu sendiri. Tidak heran jika pada akhirnya kualitas sumber daya manusia yang diharapkan oleh pihak perusahaan tidak sesuai dengan harapan.
Terutama saat situasi pandemi seperti ini, seringkali karyawan mengalami stres, tertekan, burn-out, kewalahan, bahkan terganggu mentalnya akibat tidak mampu mengendalikan pikiran, perasaan, dan jiwanya dalam bekerja. Padahal, kesehatan mental seharusnya tidak boleh diabaikan dalam pekerjaan. Adapun, problem yang paling sering terjadi pada pekerja adalah stres.
Maka dari itu, Maxpower Group mengadakan Knowledge sharing dengan tema "Lift Up Your Stress, Live Better" yang diselenggarakan secara daring pada hari Jumat, 4 September 2020 pada pukul 09.00 WIB. Bersama-sama para peserta diajak oleh pembicara yaitu Ibu Anna Sofia, selaku Head of Material Procurement Maxpower Group untuk dapat melepaskan emosi sejenak dari hiruk pikuk & stress dari tekanan pekerjaan, agar dapat menjadi produktif dan menjalani hidup adaptif.
Karena apabila kita tidak dapat mengendalikan emosi, semua hal pasti akan mempengaruhi kehidupan dan berefek pada produktivitas, kreativitas, dan relasi kerja, sudah tentu problem ini mempengaruhi perusahaan juga. Kondisi ini juga yang kerap membuat banyak pekerja bekerja seadanya saja. Mereka percaya bahwa bekerja seadanya sudah cukup, tanpa gairah dan keinginan untuk memberikan yang terbaik.
Rencananya sesi Knowledge Sharing akan rutin diselenggarakan secara rutin, setiap 1 (satu) minggu sekali dengan tema-tema yang fun dan juga tentu edukatif!