Internal Program 2022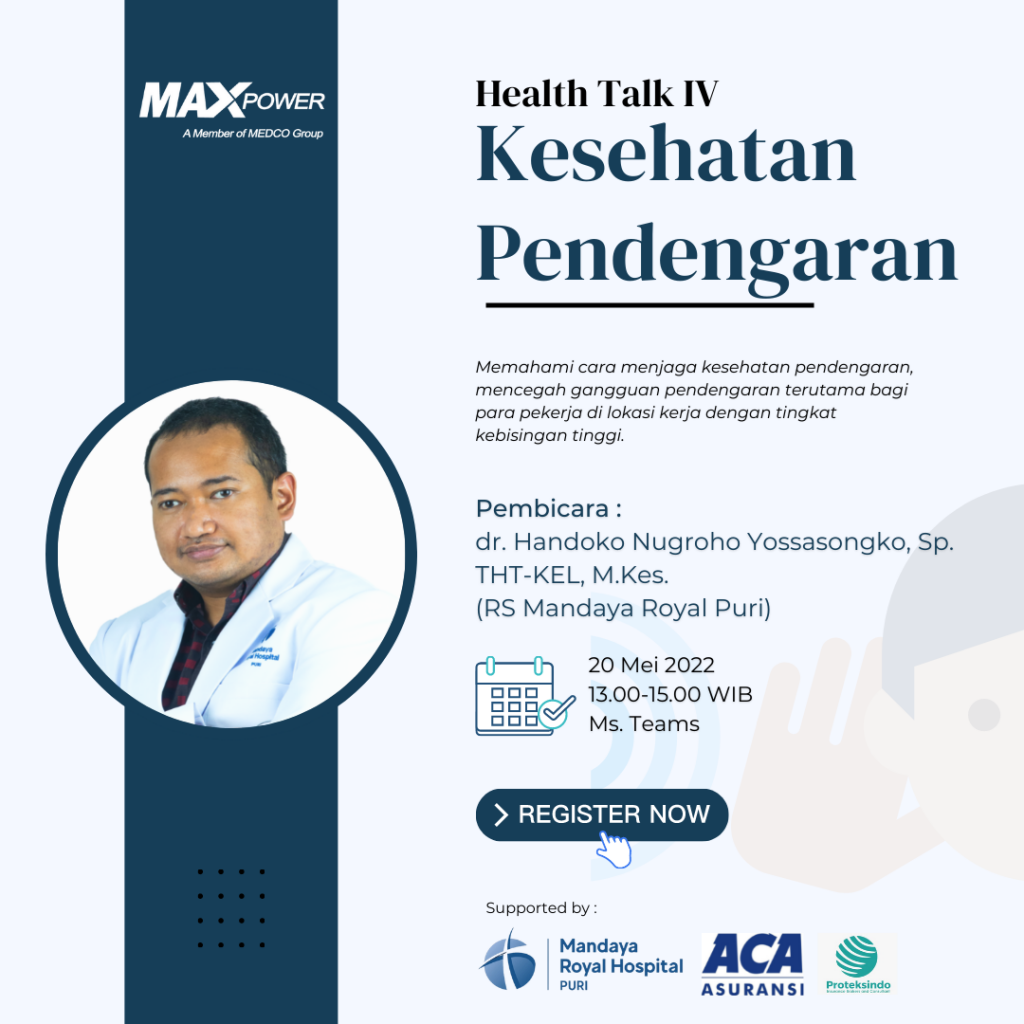 Health Talk #4 in 2022 : "Hearing Health"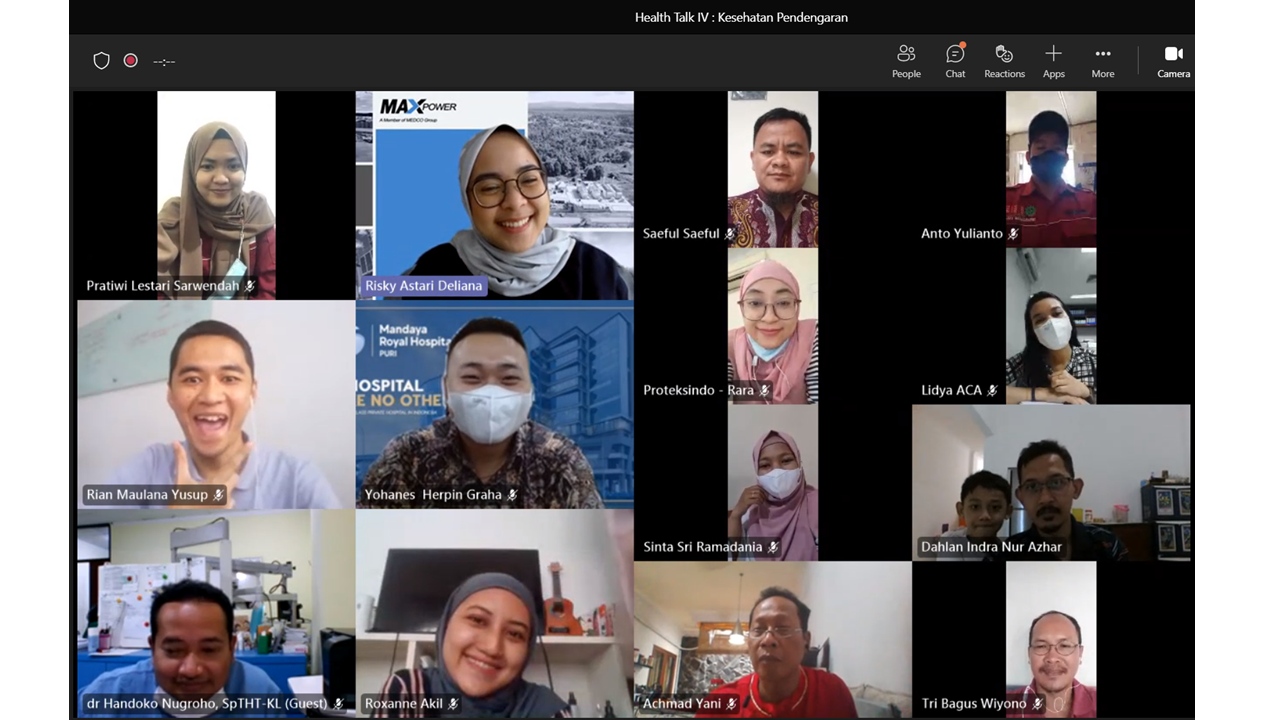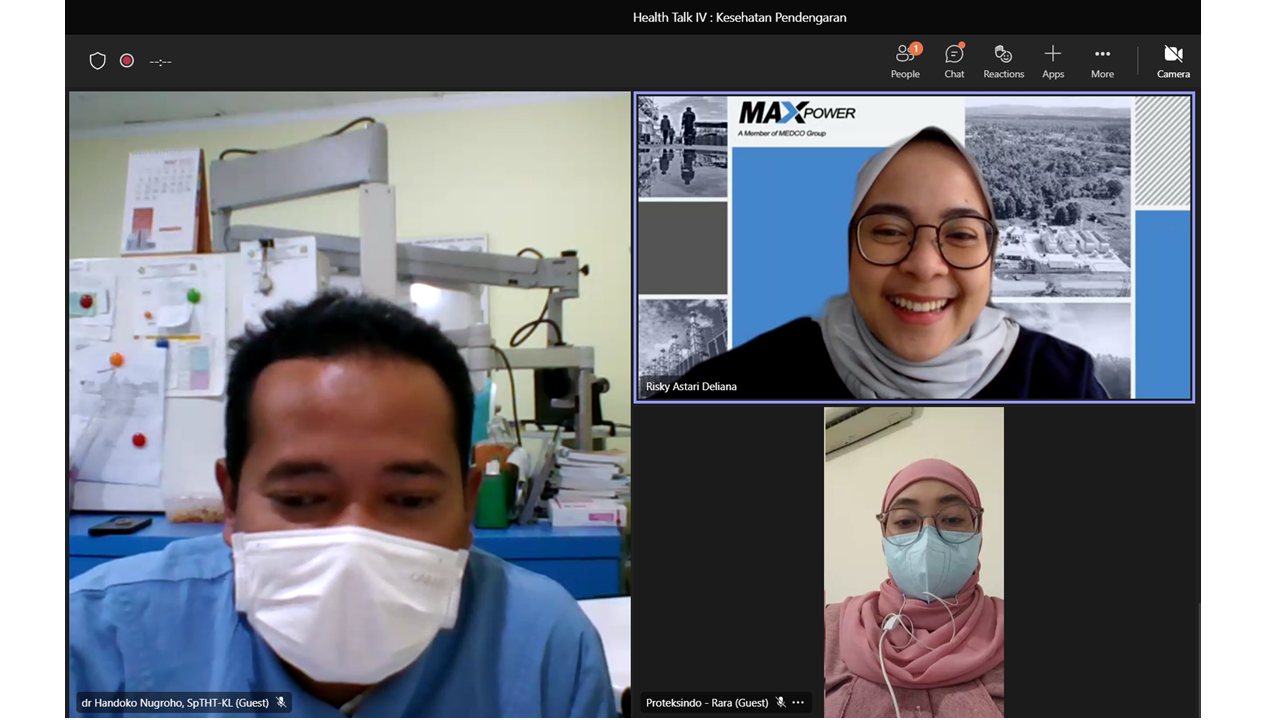 Friday, May 20th, 2022/ Maxpower Group in collaboration with ACA Insurance, Mandaya Royal Puri Hospital and Proteksindo, present Health Talk series #4 in 2022, with theme "Hearing Health" by presenting speaker dr. Handoko Nugroho Yossasongko Sp.THT-KEL, M.Kes, Otorhinolaryngology from Mandaya Royal Puri Hospital and assisted by Risky Astari Deliana as Organization Development Assistant Manager Maxpower Group. This event was held online on Friday, May 20th, 2022, at 13.00 WIB.
On this occasion, dr. Handoko explained the importance of maintaining the health of hearing, because the effects of hearing loss and deafness are very broad and severe. The hearing loss suffered can occur due to various factors, there are :
Too long hearing noise
Disturbance from birth
The aging process
There is a foreign object blocking the ear
The following are preventive steps that can be taken to maintain healthy ears and hearing by dr. Handoko :
Avoid noise, for workers who are close to noise interference, can maintain hearing by using earplugs as often as possible.
Pay attention to the cleanliness of the ear canal, and do not often to clean (pick) the ear. Because basically the dirt in the ear will come out by itself.
Avoid using a headset/earphone/headphone with a long frequency.
The next Health Talk series is planned to be held again by Human Capital team of Maxpower Group with fun and educational themes!
Jumat, 20 Mei 2022/ Maxpower Group bekerja sama dengan ACA Insurance, RS Mandaya Royal Puri dan Proteksindo menyelenggarakan kembali Health Talk seri #4 di tahun 2022 dengan tema "Kesehatan Pendengaran" dengan menghadirkan pembicara dr. Handoko Nugroho Yossasongko Sp.THT-KEL, M.Kes, spesialis THT RS Mandaya Royal Puri. Acara ini diselenggarakan secara daring pada hari Jumat, 20 Mei 2022 pada pukul 13.00 WIB dibantu oleh moderator yaitu Risky Astari Deliana selaku Organization Development Assistant Manager Maxpower Group.
Dalam kesempatan ini, dr. Handoko menjelaskan pentingnya untuk menjaga menjaga kesehatan indera pendengaran, karena ampak yang ditimbulkan oleh gangguan pendengaran dan ketulian sangat luas dan berat. Adapun gangguan pendengaran yang diderita dapat terjadi karena berbagai macam faktor yaitu:
Terlalu lama mendengar kebisingan
Gangguan sejak lahir
Proses penuaan
Terdapat benda asing yang menghalangi telinga
Berikut adalah langkah pencegahan yang dapat dilakukan untuk menjaga kesehatan telinga dan pendengaran oleh dr. Handoko :
Hindari suara bising, untuk pekerja yang dekat dengan gangguan suara-suara bising, dapat menjaga pendegaran dengan sesering mungkin menggunakan earplug.
Memperhatikan kebersihan liang telinga, dan tidak sering-sering untuk membersihkan (mengorek) telinga. Karena pada dasarnya kotoran yang ada pada telinga akan keluar dengan sendirinya.
Hindari penggunaan headset/ earphone/ headphone dengan frekuensi yang Panjang.
Seri Health Talk lanjutan rencananya akan diselenggarakan kembali oleh tim Human Capital Maxpower dengan tema-tema yang fun dan juga tentu edukatif!