Internal Program 2022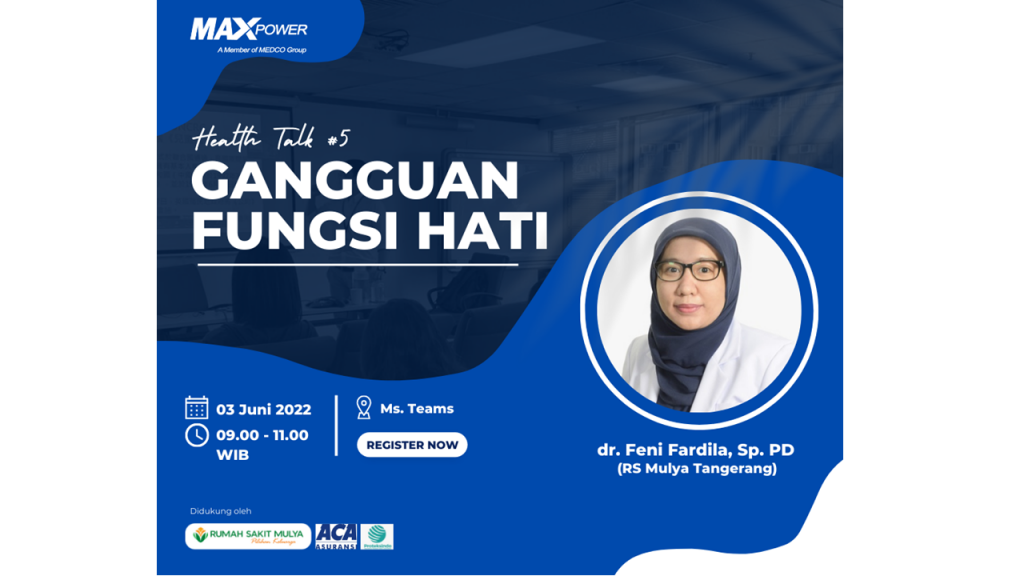 Health Talk #5 in 2022 : "Liver Disorder"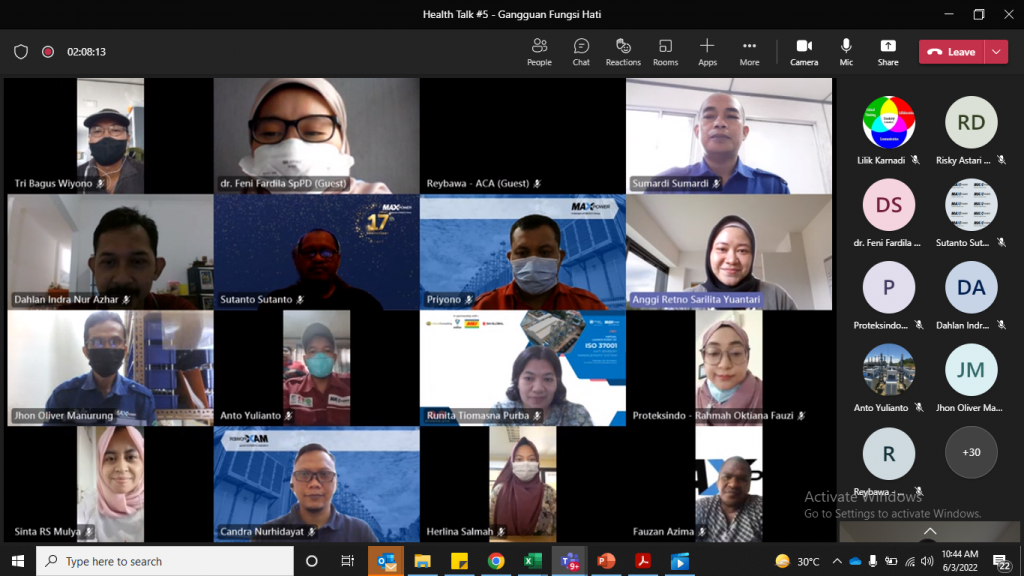 Friday, June 3rd, 2022/ Maxpower Group in collaboration with ACA Insurance, Mulya Tangerang Hospital and Proteksindo, present Health Talk series #5 in 2022, with theme "Liver Disorder" by presenting speaker dr. Feni Fardila Sp. PD, Internist from Mulya Tangerang Hospital and assisted by Anggi Retno Sarilita Yuantari as Recruitment & Training Specialist Maxpower Group. This event was held online on Friday, June 3rd, 2022, at 11.00 WIB.
On this occasion, dr. Feni explained the importance of taking care of the organs in the body, especially the liver. Liver disorders can be caused by various things, from infections caused by viruses to an unhealthy lifestyle. Disrupted liver function can have an impact on disrupting the function of other body organs. Furthermore, Dr. Feni explained that early detection and appropriate treatment need to be done to prevent the risk of serious complications.
The following are preventive steps that can be taken to maintain the health of the liver, according to dr. Feni :
Maintain Weight
Eat Nutritious Food
Regularly Do Physical Activity
Avoid Toxins or Toxic Substances
Avoid Alcohol
The next Health Talk series is planned to be held again by Human Capital team of Maxpower Group with fun and educational themes!
Jumat, 3 Juni 2022/ Maxpower Group bekerja sama dengan ACA Insurance, RS Mulya Tangerang dan Proteksindo menyelenggarakan kembali Health Talk seri #5 di tahun 2022 dengan tema "Gangguan Hati" dengan menghadirkan pembicara dr. Feni Fardila Sp.PD, spesialis penyakit dalam RS Mulya Tangerang. Acara ini diselenggarakan secara daring pada hari Jumat, 3 Juni 2022 pada pukul 09.00 – 11.00 WIB dibantu oleh moderator yaitu Anggi Retno Sarilita Yuantari selaku Recruitment & Training Specialist Maxpower Group.
Dalam kesempatan ini, dr. Feni menjelaskan pentingnya untuk menjaga menjaga organ dalam tubuh, khususnya hati. Gangguan hati dapat disebabkan oleh berbagai hal, mulai dari infeksi yang disebabkan oleh virus hingga gaya hidup tidak sehat. Fungsi ogan hati yang terganggu bisa berdampak pada terganggunya fungsi organ tubuh lainnya. Lebih lanjut dr Feni menjelaskan bahwa deteksi dini dan penanganan yang tepat perlu dilakukan guna mencegah risiko komplikasi yang bersifat serius.
Berikut adalah langkah pencegahan yang dapat dilakukan untuk menjaga kesehatan organ hati menurut dr. Feni :
Menjaga Berat Badan
Makan Makanan Bergizi
Rutin Melakukan Aktivitas Fisik
Hindari Toksin atau Zat Beracun
Hindari Alkohol
Seri Health Talk lanjutan rencananya akan diselenggarakan kembali oleh tim Human Capital Maxpower dengan tema-tema yang fun dan juga tentu edukatif!