Internal Program 2022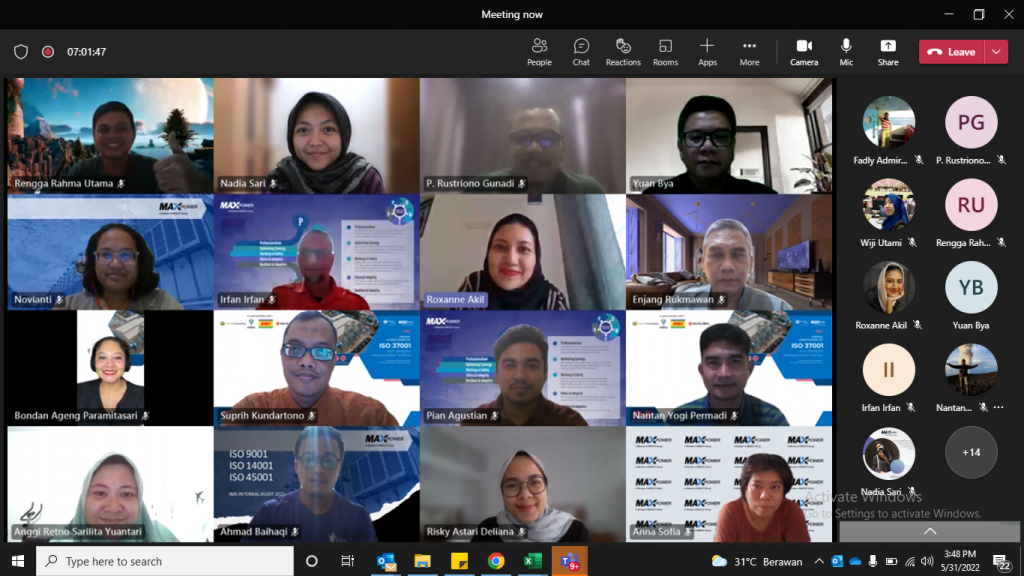 Maxpower Group IMS & ABMS Internal Audit 2022
Jakarta, July 28, 2022/ Regarding to the implementation of Integrated Quality Management System and HSESS Management System (Health, Safety, Environment, Security, and Social) as well as Anti-Bribery Management System (ABMS), Maxpower Group routinely held an Internal Audit 2022 activity. This activity was organized by Internal Audit & Quality Management together with Management Representative and Anti-Bribery Compliance Function.
This is an important part of the sustainable development program of the company's resources and quality and helps companies improve performance in an integrated manner in Maxpower Group's business processes. Different from the previous year, this year's audit was arranged by Quality Management System, HSESS Management System and ABMS into one jointly activity.
This Opening Meeting of this year audit session was held online on Thursday, June 16, 2022 and prior to that, awareness training activities for auditors held by Professional Trainers to provide a deeper understanding of the Management System as well as initial & final assessments for the auditor selection process.  This activity held online from June 16, 2022 to June 27, 2022.
Jakarta, 28 Juli 2022/ Dalam rangka penerapan Sistem Manajemen Mutu dan Sistem Manajemen K4L (Kesehatan, Keselamatan Kerja, Keamanan, Lingkungan dan Sosial) yang terintegrasi serta Sistem Manajemen Anti Penyuapan (SMAP), Maxpower Group kembali menyelenggarakan kegiatan Internal Audit 2022. Kegiatan ini diselenggarakan oleh Internal Audit & Quality Management bersama dengan Management Representative dan Fungsi Kepatuhan Anti Penyuapan (FKAP) Perusahaan.
Hal ini merupakan bagian penting dalam program pengembangan berkelanjutan dari sumberdaya dan kualitas perusahaan serta membantu perusahaan meningkatkan kinerja secara terintegrasi dalam proses bisnis Maxpower Group. Berbeda dari tahun sebelumnya, dalam kegiatan audit tahun ini dilakukan dengan menggabungkan Sistem Manajemen Mutu, Sistem Manajemen K4L serta SMAP kedalam satu aktivitas audit secara bersama-sama.
Opening Meeting IMS & ABMS Internal Audit 2022 secara daring dilaksanakan pada hari Kamis, 16 Juni 2022 dan sebelum itu dilaksanakan kegiatan training awareness kepada para auditor yang dilakukan oleh Professional Trainer guna memberikan pemahaman lebih mendalam terhadap Sistem Manajemen serta penilaian awal & akhir untuk proses pemilihan auditor. Kegiatan ini dilaksanakan secara daring mulai dari tanggal 16 Juni 2022 sampai dengan 27 Juni 2022.