Event & Announcement 2022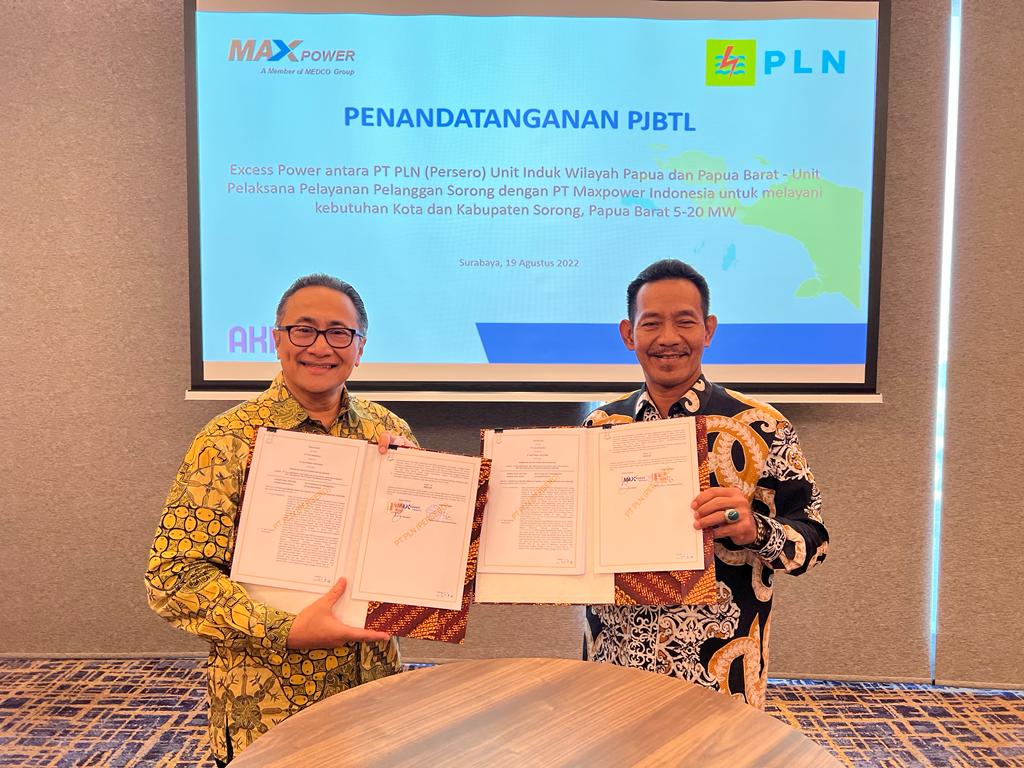 Excess Power Purchase Agreement Signing between PT PLN (Persero) and PT Maxpower Indonesia for the Main Unit for Papua and West Papua (Sorong) with a capacity of up to 20 MW.
Surabaya, 19 August 2022/ Sorong System Excess Power Purchase Agreement has been signed, for the Main Unit of Papua Region, especially West Papua (Sorong) between PT PLN (PERSERO) and PT Maxpower Indonesia (MPI) on Friday, 19 August 2022. Based on this agreement PT PLN (PERSERO) agreed to purchase the excess power produced by the power plant owned by PT Maxpower Indonesia at Sorong, which will supply this excess power of up to 20 MW for a period of 2 (two) years. This agreement was marked by the signing ceremony by Gatot S. Prawiro as the Director of Business Development of PT. Maxpower Indonesia with Moch. Andy Achaminoerdin as General Manager of PT PLN (Persero) Main Unit for Papua & West Papua Region.
With the supply of excess power from PT Maxpower Indonesia, it is hoped that PT PLN (PERSERO) can meet the needs of electricity supply in the Papua Region, especially Sorong, West Papua. The result is equitable distribution of electricity supply can be spread well, to support the government's achievement for Indonesia's economic growth and make the Papua region brighter.
Surabaya, 19 Agustus 2022/ Telah ditandatangani Perjanjian Pembelian Excess Power Sistem Sorong, untuk Unit Induk Wilayah Papua khususnya Papua Barat (Sorong) antara PT PLN (PERSERO) dan PT Maxpower Indonesia (MPI) pada hari Jumat, 19 Agustus 2022. Berdasarkan perjanjian ini PT PLN (PERSERO) setuju untuk membeli excess power produksi pembangkit tenaga Listrik milik PT Maxpower Indonesia di Sorong, yang akan memasok excess power ini sampai dengan 20 MW untuk  jangka waktu 2 (dua) tahun. Perjanjian ini ditandai dengan penandatangan Kerjasama oleh Gatot S. Prawiro selaku Direktur Pengembangan Bisnis PT. Maxpower Indonesia dengan Moch. Andy Adchaminoerdin selaku General Manager PT PLN (Persero) Unit Induk Wilayah Papua & Papua Barat.
Dengan adanya pasokan excess power dari PT Maxpower Indonesia, harapannya adalah dapat memenuhi kebutuhan supply tenaga Listrik di Kawasan Papua, khususnya Sorong, Papua Barat. Sehingga pemerataan pasokan Listrikpun dapat tersebar dengan baik, demi mendukung upaya pemerintah untuk pertumbuhan perekonomian Indonesia dan menjadikan Kawasan Papua lebih terang.