Event & Announcement 2023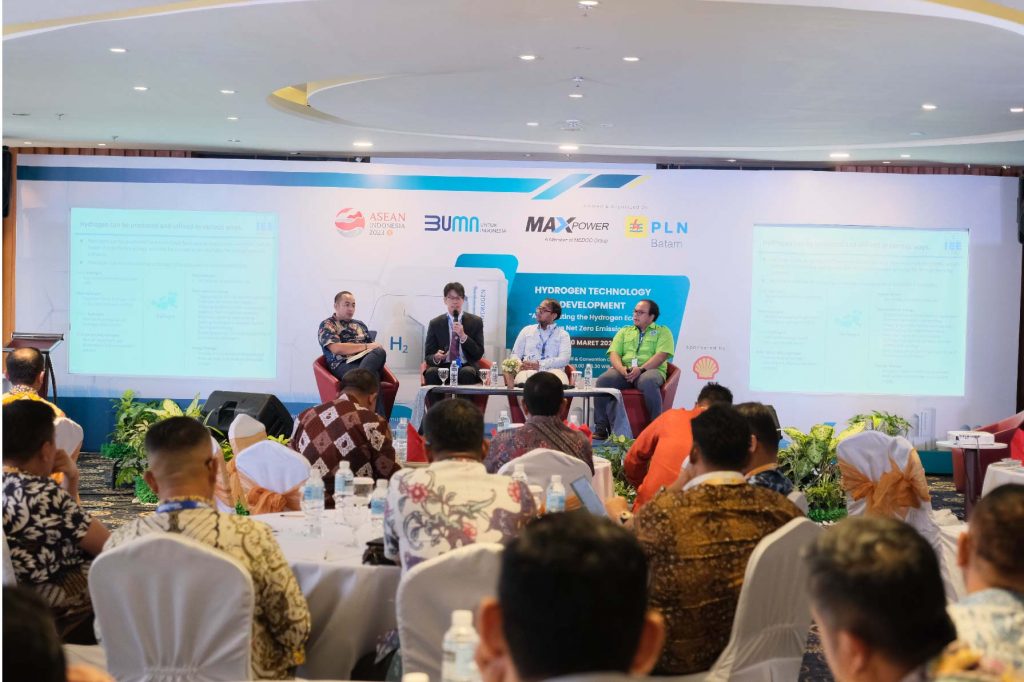 Maxpower Group Hydrogen Technology Development Seminar with PLN Batam
Batam, March 20th, 2023/ PT PLN Batam's (PLNB) commitment to achieving the Net Zero Emission (NZE) target by 2060 has led to collaboration with private parties,  PT Maxpower Indonesia/ Maxpower Group. On March 20th, 2023, they held a hybrid Seminar Sharing Knowledge at the Radisson Hotel in Batam, with the theme "Accelerating The Hydrogen Economy To Achieve Net Zero Emission In 2060".
The seminar was attended by participants from PLNB, PT PLN (Persero) affiliates, and energy stakeholders, including energy industry parties and consumers. Speakers included industry parties and academics who have implemented and applied hydrogen technology in power generation, especially in Indonesia.
The purpose of the seminar, organized by PLNB and Maxpower Group, is to encourage the application of hydrogen technology as a new, carbon-free energy source that can be developed on a large scale for power generation industries. With its abundance and high efficiency, hydrogen can be considered as a solution to reducing greenhouse gas emissions that cause global warming. The hope is that the application of hydrogen technology will not only be cleaner but also more economical for the sustainability of electricity supply in Indonesia in general, and specifically in Batam.
Fazil Erwin Alfitri, CEO of Maxpower Group, explained that "The application of hydrogen technology needs to be developed by industry players and become an alternative solution for renewable energy fuels so that the NZE target can be achieved before 2060. With the potential and opportunities that this technology offers, there needs to be collaboration and cooperation from various parties in its development and application."
Supported by PT Shell Indonesia and the speakers, the seminar provided a platform for business players who have used hydrogen, academics who encourage the development of hydrogen technology, and the government as the regulatory party to support the achievement of the NZE target by considering and seeking the best and most profitable new and renewable energy alternatives for business players. This will ensure that the availability of electricity is sufficient while preserving the environment.
PLNB will support similar activities with private or government parties to find the best solutions for the power generation industry. Thank you to Maxpower Group for collaborating with PLNB, and hopefully, the seminar that we have hosted will provide new knowledge and opportunities for all of us in finding better alternative energy sources.
Batam, 20 Maret 2023/ Komitmen PT PLN Batam (PLNB) untuk pemenuhan Target Net Zero Emission (NZE) pada tahun 2060, PLNB bersama pihak swasta yakni PT Maxpower Indonesia/ Maxpower Group bekerjasama pada tanggal 20 Maret 2023 di Hotel Radisson, Batam dengan mengadakan kegiatan Seminar Sharing Knowledge secara hybrid dengan tema
"Accelerating The Hydrogen Economy To Achieve Net Zero Emission In 2060"
( Percepatan Ekonomi Hidrogen Untuk Mencapai Emisi Nol bersih pada tahun 2060).
Seminar dihadiri para peserta dari PLNB, afiliasi PT PLN (persero), dan juga pemangku kepentingan di bidang energi, baik pelaku usaha energi maupun konsumen energi, dengan pembicara dari kalangan pelaku usaha dan akademisi yang telah menerapkan serta menjalankan teknologi hidrogen untuk industri pembangkitan listrik terutama di Indonesia.
Tujuan seminar yang diadakan oleh PLNB bersama Maxpower Group adalah mendorong penerapan atau aplikasi teknologi hydrogen menjadi salah satu energi baru tanpa emisi karbon yang dapat dikembangkan untuk skala besar bagi industri pembangkit listrik. Dengan jumlah yang berlimpah dan sangat efisien, hydrogen dapat dapat dipertimbangkan menjadi salah satu solusi dalam pengurangan emisi gas rumah kaca yang menyebabkan pemanasan global. Harapannya aplikasi teknologi hydrogen ini tidak hanya menjadi lebih bersih tetapi juga ekonomis untuk keberlangsungan penyediaan energi listrik di Indonesia pada umumnya, dan khususnya kota Batam.
Fazil Erwin Alfitri selaku Chief Executive Officer Maxpower Group menjelaskan "Aplikasi Teknologi Hidrogen perlu untuk dikembangkan oleh pelaku usaha dan menjadi alternatif solusi bahan bakar energi terbarukan agar target NZE bisa tercapai sebelum 2060. Dengan besarnya potensi dan peluang dari teknologi ini, perlu ada nya kolaborasi dan kerjasama dari berbagai pihak dalam pengembangan dan penerapannya".
Seminar yang didukung oleh PT Shell Indonesia dan para pembicara pada hari ini, menjadi ajang sebagai tukar pikiran dan berbagi ilmu antara pelaku usaha yang telah menggunakan hydrogen, akademisi yang mendorong perkembangan teknologi hydrogen dan pemerintah selaku pihak regulatory untuk mendukung pemenuhan target NZE dengan bersama- sama mempertimbangkan dan mencari alternatif energi baru dan terbarukan yang terbaik dan menguntungkan bagi pelaku bisnis sehingga ketersedian listrik tercukupi dengan tetap menjaga kelestarian lingkungan.
Kami dari PLNB akan mendukung kegiatan-kegiatan serupa dengan pihak swasta ataupun pemerintah untuk mencari solusi terbaik untuk industri ketenagalistrikan. Terimakasih untuk Maxpower Group yang telah berkolaborasi dengan PLNB, harapannya seminar yang telah kami wadahi ini bisa memberikan pengetahuan dan peluang baru bagi kita semua dalam mencari energi alternatif yang lebih baik.