Internal Program 2020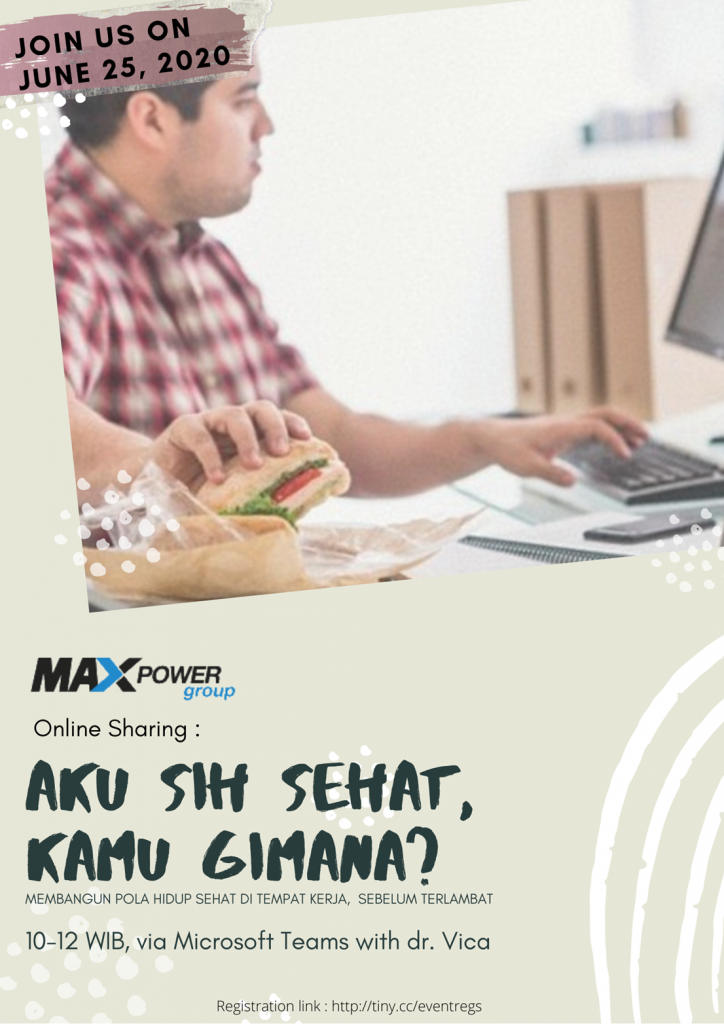 Knowledge Sharing : Health Talk: Building a Healthy Lifestyle at Work Place
Friday, 25 June 2020 / Knowledge Sharing #2 presented by dr. Levica Arnest Tiranda, Company Doctor of Maxpower Group as a speaker with the theme "Health Talk: Building a Healthy Lifestyle at Work Place" which was held online on Friday, June 25 2020 at 10.00 WIB. In this session, the participants were invited together to be able to prepare employees who will return to work at the office after working from home.
This session aims to provide education to employees on how to maintain a healthy lifestyle while working again at the office, such as:
1. Use a clean cloth mask and bring some spare
2. Always carry hand sanitizer, disinfectant spray, or liquid soap
3. Don't forget to always prepare wet and dry wipes;
4. Bringing utensils and drinking bottles from home
5. Bring your pray equipment, including your own prayer mat from home
6. Don't forget to always take supplements or multivitamins and keep exercising regularly.
7. If using "ojek online", you should use a personal helmet.
These tips are given so that employees can adapt to the workplace in this new-normal era.
Knowledge Sharing is regularly held by the Human Capital Department of Maxpower Group every once a week with fun and educational themes!
Jumat, 25 Juni 2020/ Knowledge Sharing #2 menghadirkan dr. Levica Arnest Tiranda, Company Doctor of Maxpower Group  sebagai pembicara dengan tema "Health Talk: Building a Healthy Lifestyle at Work Place" yang diselenggarakan secara daring pada hari Jumat, 25 Juni 2020 pada pukul 10.00 WIB. Pada sesi kali ini, bersama-sama para peserta diajak untuk dapat mempersiapkan karyawan yang akan beraktivitas kembali di kantor setelah work from home.
Sesi ini bertujuan untuk memberikan edukasi kepada karyawan mengenai bagaimana cara untuk menjaga pola hidup sehat selama bekerja kembali di kantor, seperti :
Menggunakan masker kain bersih dan menbawa beberapa cadangannya
Selalu membawa hand sanitizer, desinfektan semprot, atau sabun cair
Jangan lupa juga untuk selalu mempersiapkan tisu basah dan kering;
Membawa perlengkapan makan dan botol minum dari rumah
Membawa perlengkapan ibadah, termasuk sajadah sendiri dari rumah
Jangan lupa untuk selalu mengkonsumsi suplemen atau multivitamin dan tetap berolahraga secara teratur.
Jika menggunakan jasa ojek online, sebaiknya gunakan helm pribadi.
Tips-tips ini diberikan agar karyawan dapat beradaptasi di tempat kerja di era new-normal ini.
Knowledge Sharing secara rutin diselenggarakan oleh tim Human Capital Maxpower Group setiap 1 (satu) minggu sekali dengan tema-tema yang fun dan juga tentu edukatif!