Internal Program 2020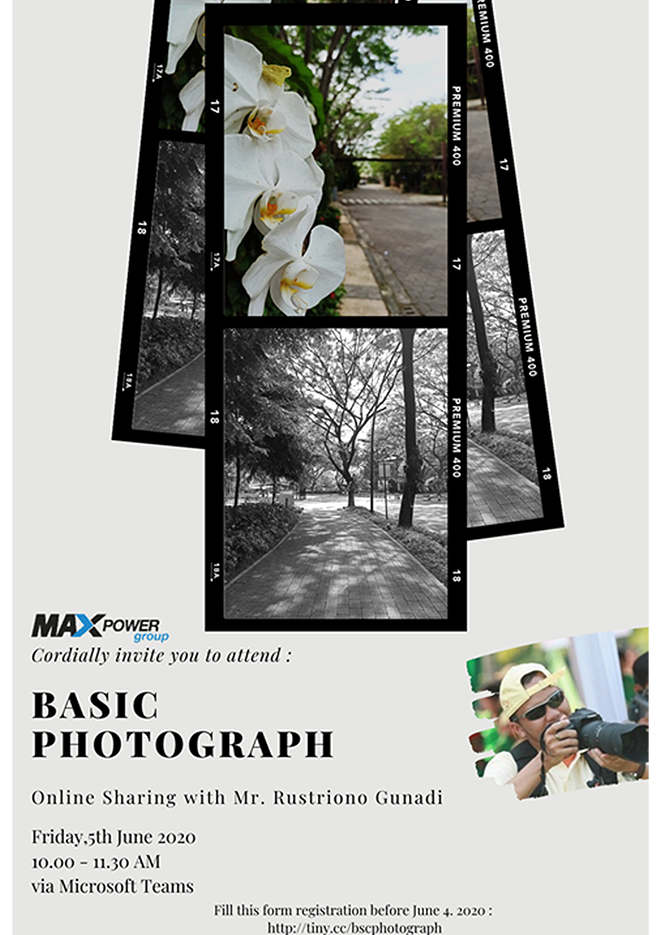 Knowledge Sharing : Basic Photography
Friday, 5 June 2020 / Knowledge Sharing #1  with theme "Basic Photography" which held premiere online on Friday, 5 June 2020 at 09.00 WIB. In this session, the participants were invited to sharp a new skill, namely "photography". The speaker Ponny Rustriono Gunadi, Head of Internal Audit & Business Process Improvement Maxpower Group is a has a hobby and skills in photography.
Ponny continued, explaining about the basics of photography that must be known, such as lighting, motion effects, composition, and focus. These elements must be considered in order to produce a decent and aesthetically pleasing photo. In addition, in the creation of photography works, of course, we must experience a series and a long process. Therefore, it takes persistence to continue learning & working.
The purpose of holding this sharing session begins with a pandemic condition which requires most employees have to work at home. This condition can reduce the level of "engagement" among employees. Due to this uncertainty and the temporary prohibition of direct social interaction, "anxiety" arises which can affect the mental health of employees.
Seeing these conditions, Human Capital Maxpower Group organized a sharing program to increase engagement between employees and reduce anxiety levels by providing useful programs outside of technical work, such as Knowledge Sharing. The choice of photography theme is also based on the research by the Human Capital Maxpower Group team analysis that the majority of employees are interested in this field. 
Jumat, 5 Juni 2020/ Knowledge Sharing  #1 kali ini dengan tema "Basic Photography" yang diselenggarakan perdana secara daring pada hari Jumat, 5 Juni 2020 pada pukul 09.00 WIB. Pada sesi kali ini, bersama-sama para peserta diajak untuk mengasah skill baru yaitu "photography".  Pembicara pada sesi kali ini adalah Ponny Rustriono Gunadi, Head of Internal Audit & Business Process Improvement Maxpower Group yang memiliki hobi & skill fotografi.
Lanjut Ponny menerangkan mengenai dasar-dasar dari ilmu fotografi yang harus diketahui, seperti pencahayaan, efek gerak, komposisi, dan fokus. Unsur-unsur tersebut harus diperhatikan untuk dapat menghasilkan foto yang layak dan baik secara estetika. Selain itu, dalam penciptaan karya fotografi tentunya harus mengalami suatu rangkaian dan proses yang panjang (jam terbang) oleh karena itu dalam diperlukan ketekunan untuk terus belajar & berkarya.
Tujuan diadakannya sesi sharing ini berawal dari kondisi pandemi yang mengharuskan sebagian besar karyawan bekerja di rumah. Kondisi tersebut dapat menurunkan tingkat "engagement" antar sesama karyawan. Karena ketidakpastiannya tersebut &serta tidak diperbolehkannya interaksi sosial secara langsung untuk sementara, timbulah kecemasan yang dapat mempengaruhi kesehatan mental karyawan.
Melihat kondisi seperti ini, maka Human Capital Maxpower Group menyelenggarakan program sharing untuk dapat meningkatkan kembali "engagement" antar sesama karyawan serta menekan tingkat "kecemasan" dengan memberikan program-program bermanfaat diluar teknis pekerjaan, seperti Knowledge Sharing ini. Pemilihan tema fotografi juga berdasarkan hasil riset Analisa tim Human Capital Maxpower Group bahwa mayoritas karyawan tertarik pada bidang ini.