Internal Program 2020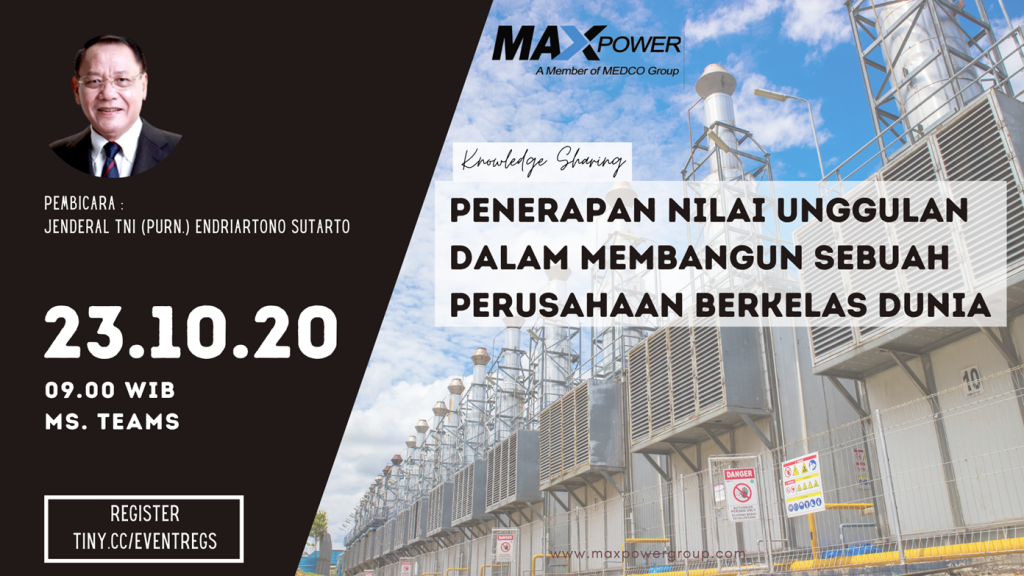 Knowledge Sharing: The Application of Excellent Values ​​In Building A World Class Company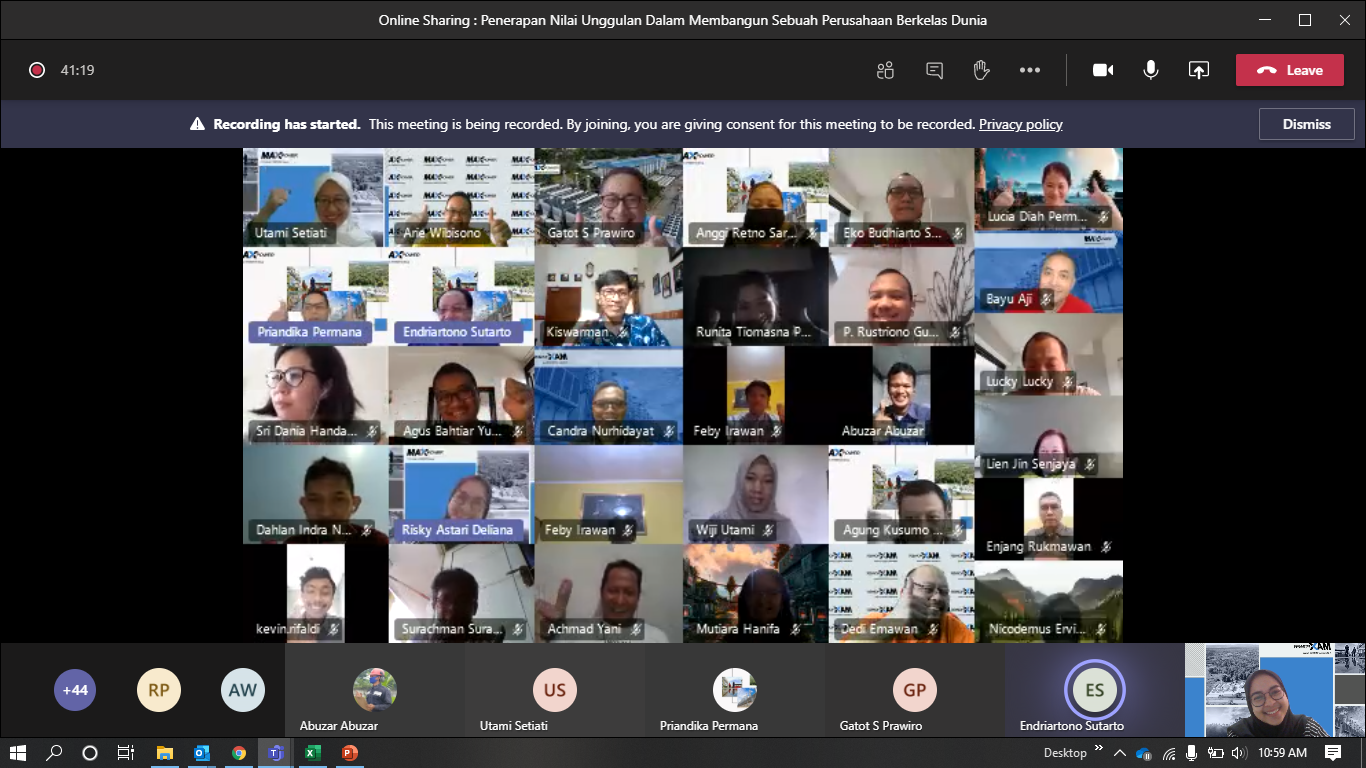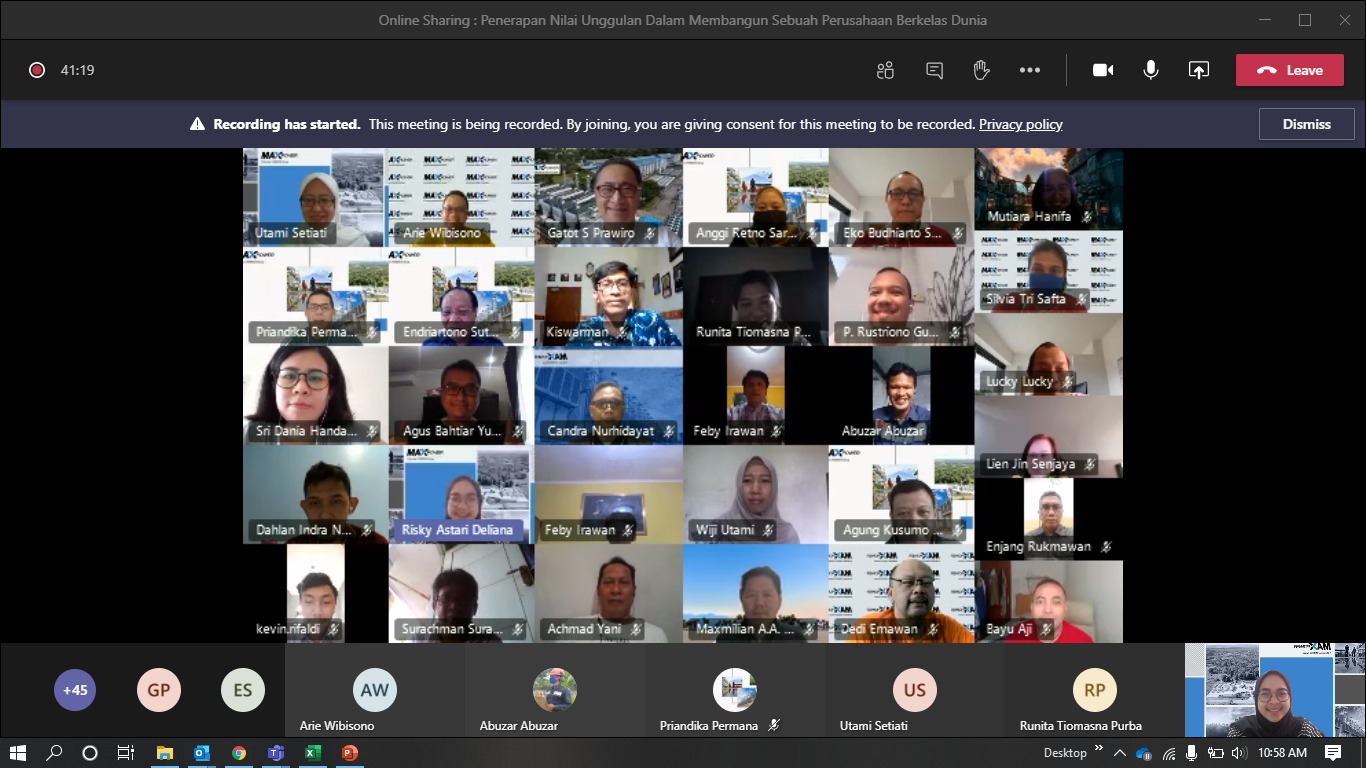 Friday, 23 October 2020 / The importance of implementing corporate values ​​is one of the most important points for organization. Therefore, Maxpower Group held Knowledge Sharing with the theme "Application of Prime Values ​​in building a world-class Company" which was held online on Friday, October 23 2020 at 09.00 WIB. In this session, the participants were invited together by this session speaker, Bpk. Endriartono Sutarto as Commissioner of Maxpower Group to be able to have a better understanding of how to manage (lead) an organization by instilling the values ​​that a company must have.
According to the speaker at this Knowledge Sharing, Bpk. Endriartono Sutarto, "Beliefs and shared values ​​within an organization serve as guidelines for the behavior of members of the organization". He continued that "With a strong organizational culture, it will produce values ​​in the company, such as Focus, Integrity, Visionary, Excellence, & Mutual-Respect".
Knowledge Sharing is regularly held by the Human Capital Department of Maxpower Group every once a week with fun and educational themes!
Jumat, 23 Oktober 2020/ Pentingnya penerapan tata nilai dalam perusahaan menjadi salah satu poin penting bagi suatu organisasi. Maka dari itu, Maxpower Group kembali menyelenggarakan Knowledge Sharing dengan tema "Penerapan Nilai Unggulan dalam membangun sebuah Perusahan berkelas dunia" yang diselenggarakan secara daring pada hari Jumat, 23 Oktober 2020 pada pukul 09.00 WIB. Pada sesi kali ini, bersama-sama para peserta diajak oleh pembicara yaitu Bpk. Endriartono Sutarto selaku Komisaris Maxpower Group untuk dapat lebih memahami bagaimana mengelola (memimpin) suatu organisasi dengan menanamkan tata nilai yang harus dimiliki oleh suatu perusahaan.
Menurut pembicara pada Knowledge Sharing kali ini, yaitu Bpk. Endriartono Sutarto, "Kepercayaan dan tata nilai yang diyakini bersama di dalam suatu organisasi menjadi pedoman bagi perilaku anggota organisasi tersebut". Lanjut beliau juga mengatakan bahwa "Dengan budaya organisasi yang kuat, akan menghasilkan tata nilai dalam perusahaan, yaitu Focus, Integrity, Visionary, Excellence, & Mutual-Respect".
Knowledge Sharing secara rutin diselenggarakan oleh tim Human Capital Maxpower Group setiap 1 (satu) minggu sekali dengan tema-tema yang fun dan juga tentu edukatif!