Internal Program 2020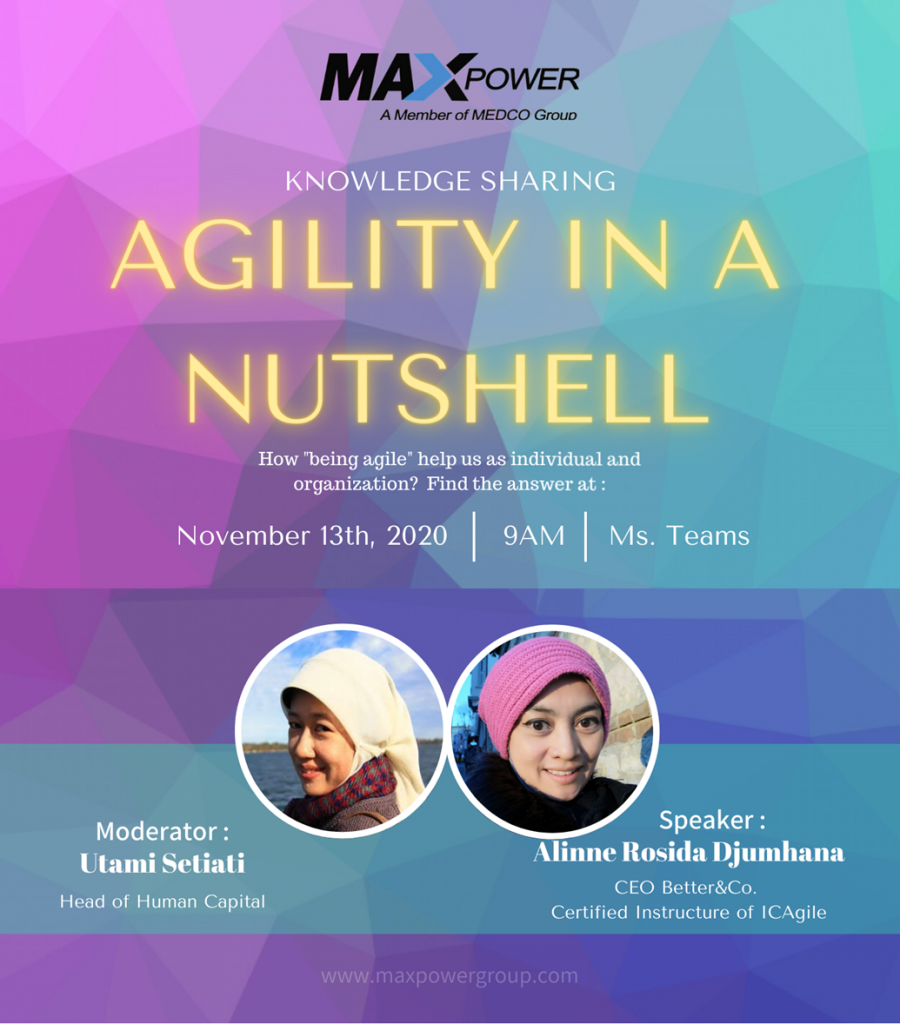 Knowledge Sharing : Agility in a Nutshell
Friday, 13 November 2020 / Knowledge Sharing this time with theme "Agility in a Nutshel" presenting speaker Alinne Rosida Djumhana, CEO of Better & Co & Certified Instructure of ICagile. This session was held online on Friday, 13 November 2020 at 09.00 WIB assisted by Mrs. Utami Setiati as Head of Human Capital Maxpower Group as a moderator.
The world is changing and making competition even tighter. Organizations inevitably have to take a quick response action to be able to deal with such rapid environmental changes. This rapid environmental change requires organizations and employees to be able to adapt agile. This agile organizational behaviour has been widely applied in start-up companies. In this session, the speakers provided insights on how to make agile planning in organizations and what are the areas of human decision making. But before deciding, the speaker suggested to classify the problem first so that it can be planned well. Agile doesn't mean it can't meet the target, but with this behaviour we can test the water first. Because agile is how to be flexible in finding other ways, in order to achieve the intended objectives.
Knowledge Sharing is regularly held by the Human Capital Maxpower Group team every 1 (one) week with fun and educational themes!
Jumat, 13 November 2020/ Knowledge Sharing kali ini dengan tema "Agility in a Nutshel" dengan menghadirkan pembicara Alinne Rosida Djumhana, CEO Better&Co & Certified Instructure of ICagile. Sesi ini diselenggarakan secara daring pada hari Jumat, 13 November 2020 pada pukul 09.00 WIB dibantu oleh moderator yaitu Ibu Utami Setiati selaku Head of Human Capital Maxpower Group.
Dunia berubah dan membuat persaingan semakin ketat. Organisasi mau tidak mau harus melakukan suatu aksi cepat tanggap untuk dapat menghadapi perubahan lingkungan yang begitu cepat. Perubahan lingkungan yang cepat tersebut menuntut organisasi dan karyawan untuk dapat beradaptasi dengan lincah atau agile. Perilaku organisasi agile ini, sudah banyak diterapkan di start-up company. Dalam sesi ini, pembicara memberikan insights mengenai bagaimana cara membuat perencanaan yang agile di dalam organisasi serta apa saja ranah dalam pengambilan keputusan manusia. Namun sebelum mengambil sebuah keputusan, pembicara menyarakan untuk dapat classify the problem terlebih dahulu agar dapat terencana dengan baik. Agile bukan berarti tidak dapat memenuhi target, tetapi dengan perilaku tersebut kita dapat test the water terlebih dahulu. Karena agile adalah bagaimana agar menjadi flexible untuk mencari cara lain, demi mencapai objektif yang dituju.
Knowledge Sharing secara rutin diselenggarakan oleh tim Human Capital Maxpower Group setiap 1 (satu) minggu sekali dengan tema-tema yang fun dan juga tentu edukatif!