Internal Program 2020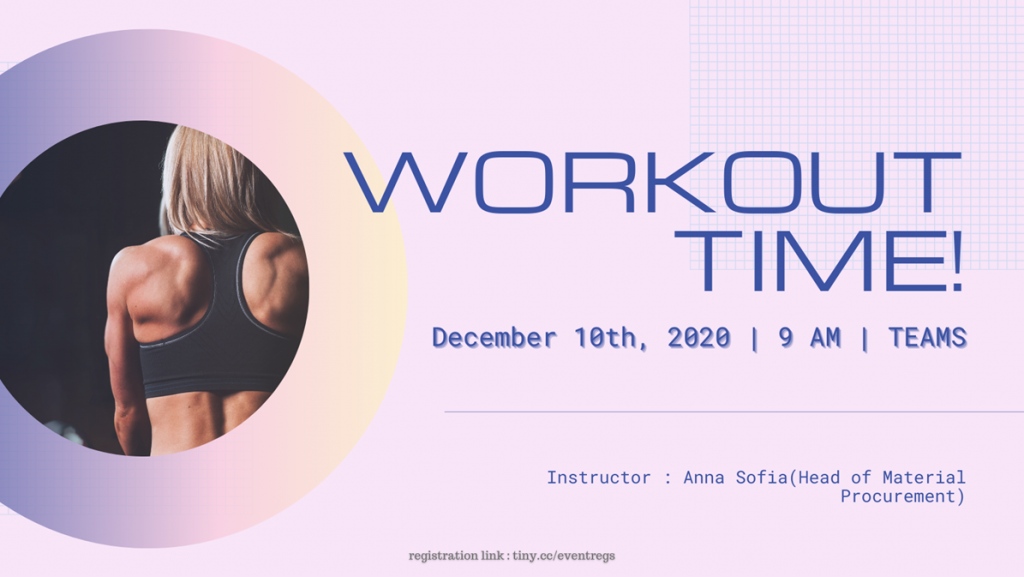 Knowledge Sharing : Workout Time!
Thursday, 10 Desember 2020/ Who said that while working from home we will not feel tired. In fact, it could be that we're getting tired since working at home because we have a lot of work to do at once. Because by staying at home, we have helped the process of deciding the spread of the Covid-19 virus.
However, do not let us experience other health problems because we are too long at home. We still have to maintain health like exercising. Being at home doesn't have to be an excuse for not being able to move your body.
Therefore, Maxpower Group held a Workout Time! For the second time. It was held online on Thursday, December 10, 2020 at 09.00 WIB. Together, the participants were invited by the instructor of this session, Anna Sofia, as the Head of Material Procurement of Maxpower Group to be able to release their emotions for a moment from the hustle and bustle & stress of work pressure, in order to be productive & positive.
In this session, participants who are specifically for female employees are invited to move healthily, starting from a warm-up session to a cool-down session. The type of exercise that is done is aerobic exercise which is one (1) type of cardio exercise which also combines LIIT (low intensity interval training) which in addition to refreshing the body can also boost the body's metabolism.
Knowledge Sharing is held regularly, every once in a week with fun and educational themes!
Kamis, 10 Desember 2020/ Siapa bilang selama work from home atau kerja dari rumah kita tidak akan merasa lelah. Bahkan, bisa saja justru semakin lelah sejak bekerja di rumah karena banyak pekerjaan yang sekaligus harus kita lakukan. Jangankan pergi ke kantor. Ke luar rumah saja tidak dianjurkan. Karena dengan cara berdiam diri di rumah, kita sudah membantu proses memutuskan penyebaran virus Covid-19.
Akan tetapi, jangan sampai kita justru mengalami masalah kesehatan lain karena terlalu lama berada di rumah. Kita tetap harus menjaga kesehatan seperti berolahraga. Berada di rumah tidak harus dijadikan alasan kita tidak bisa berolahraga.
Maka dari itu, Maxpower Group mengadakan Workout Time! Untuk kedua kalinya yang diselenggarakan secara daring pada hari Kamis, 10 Desember 2020 pada pukul 09.00 WIB. Bersama-sama para peserta diajak oleh intrusktur sesi ini yaitu Anna Sofia, selaku Head of Material Procurement Maxpower Group untuk dapat melepaskan emosi sejenak dari hiruk pikuk & stress dari tekanan pekerjaan, agar dapat menjadi produktif & positif.
Dalam sesi ini peserta yang ditujukan khusus hanya untuk karyawan perempuan saja, diajak untuk bergerak sehat yang dimulai dari sesi pemanasan sampai dengan sesi pendinginan. Jenis latihan yang dilakukan adalah senam aerobik yang merupakan salah 1 (satu) jenis latihan kardio yang juga menggabungkan LIIT (low intensity interval training) yang selain dapat menyegarkan tubuh juga dapat boosting metabolisme tubuh.
Knowledge Sharing rutin diselenggarakan secara rutin, setiap 1 (satu) minggu sekali dengan tema-tema yang fun dan juga tentu edukatif!