Internal Program 2020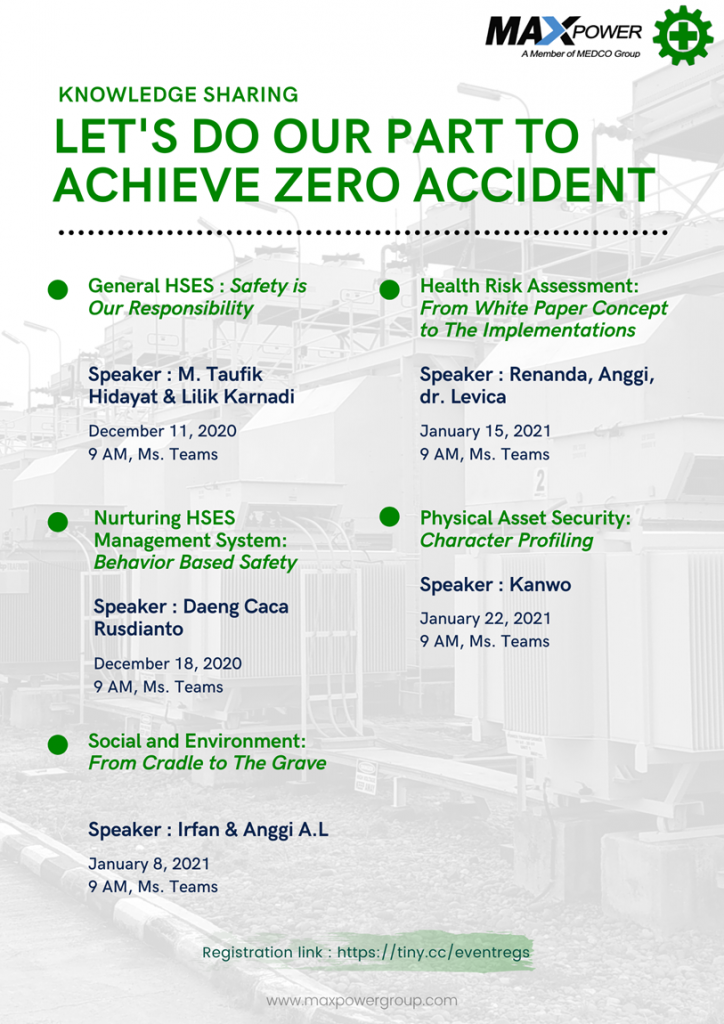 Knowledge Sharing : General HSES! Safety is Our Responsibility
Friday, 11 December 2020 / Knowledge Sharing this time with theme "General HSES! Safety is Our Responsibility " with speaker Lilik Karnadi, HSES Inspector of Maxpower Group. This session was held online on Friday, December 11, 2020 at 09.00 WIB assisted by the moderator and also MC, Anggi Retno Sarilita Yuantari as Recruitment & Training Specialist of Maxpower Group.
In this session it was explained that "Everyone is responsible in all safety", because HSES is part of all of us, not just a department. HSES itself or what is called K3 (Keselematan & Kesehatan Kerja) in Indonesia is regulated in the 1945 Constitution (27 paragraph 2), Law no. 1 of 1970: Article 1 of labor & sources of danger and PP no. 50/2012. The regulation explains that in the business world / workplace there are 3 (three) scopes, namely labor, business & hazard.
Each has its own definition :
Safety – Controlling losses from accidents & the ability to identify and eliminate (control risks) that are not acceptable.
Health – Degree / level of physical condition and individual psychology.
It also explains the risk factors for accidents in the workplace, comes from the workforce itself, the materials used and the tools used.
Therefore the role of everyone in the company in supporting the K3 program is:
Having awareness to maintain your own safety and health
Follow the rules written in the manual, policies, procedures, and work instructions
Do not change the pace of work or the way of control
Stop work if there is an unsafe condition or action
Does not work if in unwell
Reporting hazardous conditions and incidents
Always use PPE at work
Because it is IMPORTANT to REMEMBER that:
It takes one minute to write the OSH regulations
It takes one hour to hold an K3 meeting
It takes one week to plan a good OSH program
It takes one month to implement the K3 program
It takes one year to achieve an K3 award
It takes all the time to create a safe job
But it only takes one second to destroy everything with a work accident.
Knowledge Sharing sessions will be held regularly, every once in a week with fun and educational themes!
Jumat, 11 Desember 2020/ Knowledge Sharing kali ini dengan tema "General HSES! Safety is Our Responsibility" dengan pembicara Lilik Karnadi, HSES Inspector of Maxpower Group. Sesi ini diselenggarakan secara daring pada hari Jumat, 11 Desember 2020 pada pukul 09.00 WIB dibantu oleh moderator sekaligus MC yaitu Anggi Retno Sarilita Yuantari selaku Recruitment & Training Specialist Maxpower Group.
Dalam sesi ini dijelaskan bahwa "Everyone is responsible in all safety",  karena HSES merupakan bagian dari diri kita semua, bukan hanya sebatas departmen. HSES sendiri atau yang disebut K3 (Keselematan & Kesehatan Kerja) di Indonesia diatur dalam UUD 1945 (27 ayat 2), UU no. 1 tahun 1970 : Pasal 1 tenaga kerja & sumber bahaya dan PP no. 50 tahun 2012. Dalam peraturan tersebut dijelaskan bawha di dunia usaha/ tempat kerja terdapat 3 (tiga) lingkup yaitu tenaga kerja, usaha & bahaya (hazard).
Masing-masing memilik definisi sendiri, yaitu :

1. Keselamatan – Mengendalikan kerugian dari kecelakaan & kemampuan untuk mengidentifikasi dan menghilangkan (mengontrol resiko) yang tidak bisa diterima.
2. Kesehatan – Derajat/ tingkat keadaan fisik dan piskologi individu.

Dijelaskan pula faktor-faktor ancaman resiko kecelakaan di tempat kerja, yaitu dari ancaman yang berasal dari tenaga kerja itu sendiri, bahan yang digunakan serta alat yang dipakai.

Maka dari itu peran setiap orang dalam perusahaan dalam mendukung program K3 adalah :
1. Memiliki kesadaran untuk menjaga keselamatan dan kesehatan diri sendiri
2. Mengikuti aturan yang tertulis di manual, kebijakan, prosedur, dan intruksi kerja
3. Tidak mengubah langkah kerja atau cara kendali
4. Menghentikan pekerjaan jika ada kondisi atau tindakan tidak aman
5. Tidak bekerja jika dalam keadaan tidak sehat
6. Melaprokan kondisi berbahaya dan insiden
7. Selalu menggunakan APD dalam pekerjaan

Karena PENTING untuk DIINGAT bahwa :
1. Dibutuhkan satu menit untuk menulis peraturan K3
2. Dibutuhkan satu jam untuk mengadakan rapat K3
3. Dibutuhkan satu minggu untuk merencanakan program K3 yang baik
4. Dibutuhkan satu bulan untuk menerapkan program K3
5. DIbutuhkan satu tahun untuk meraih pernghargaan K3
6. Dibutuhkan sepanjang masa untuk menciptakan pekerjaan aman
Tetapi hanya dibutuhkan satu detik untuk menghancurkan semuanya dengan kecelakaan kerja.

Knowledge Sharing rutin diselenggarakan secara rutin, setiap 1 (satu) minggu sekali dengan tema-tema yang fun dan juga tentu edukatif!