Internal Program 2021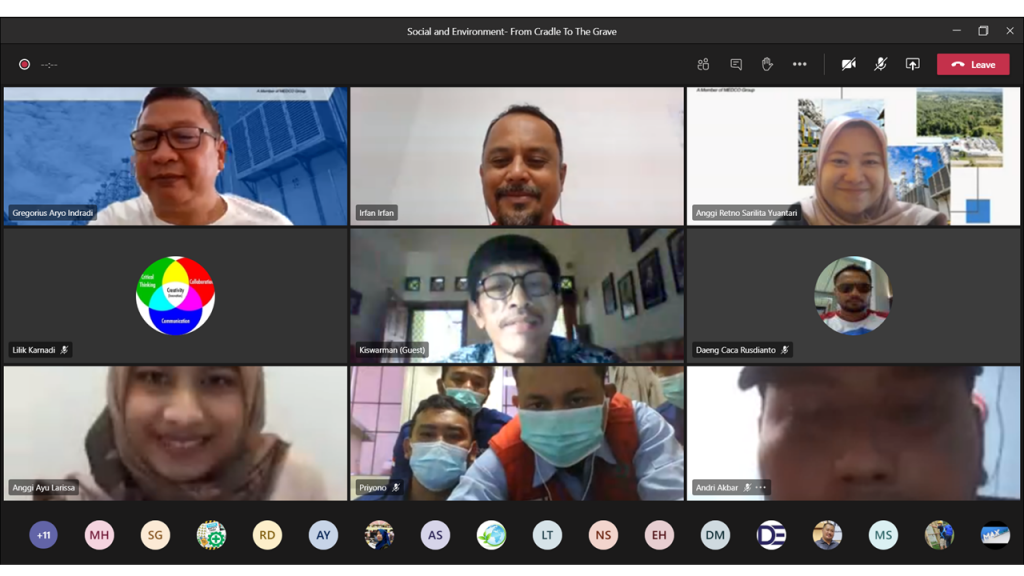 Knowledge Sharing : Social & Enviroment : From Cradle to Grave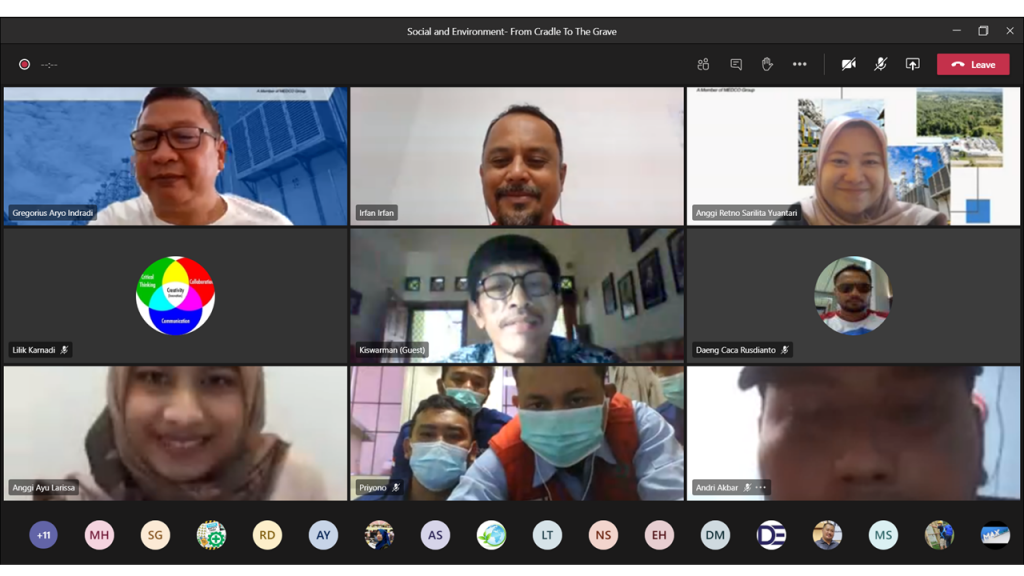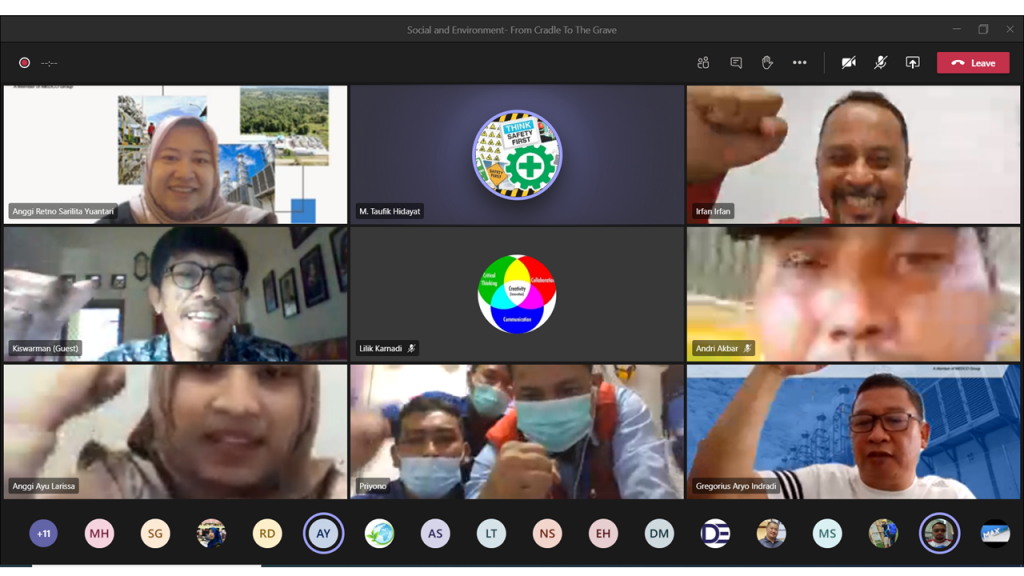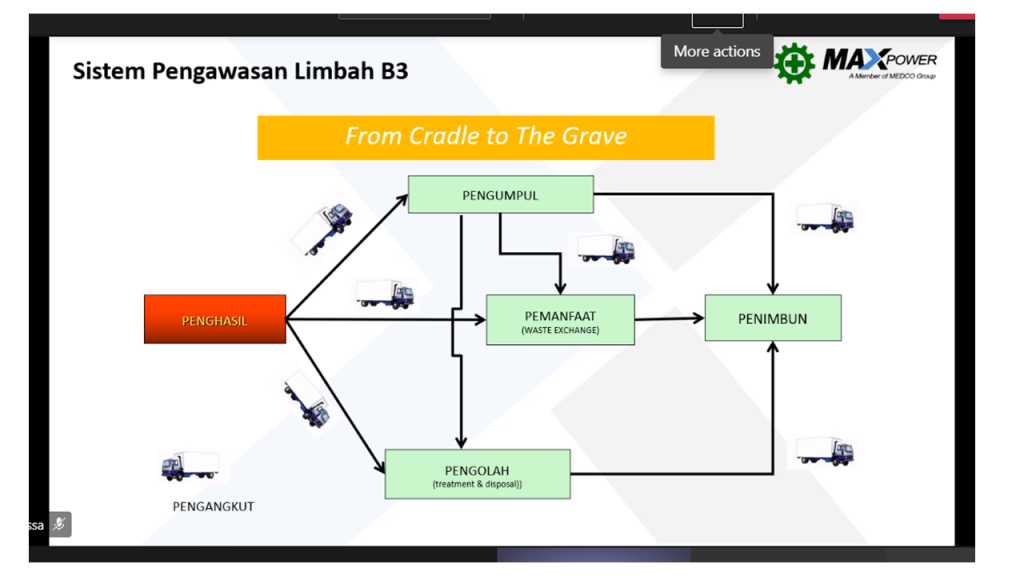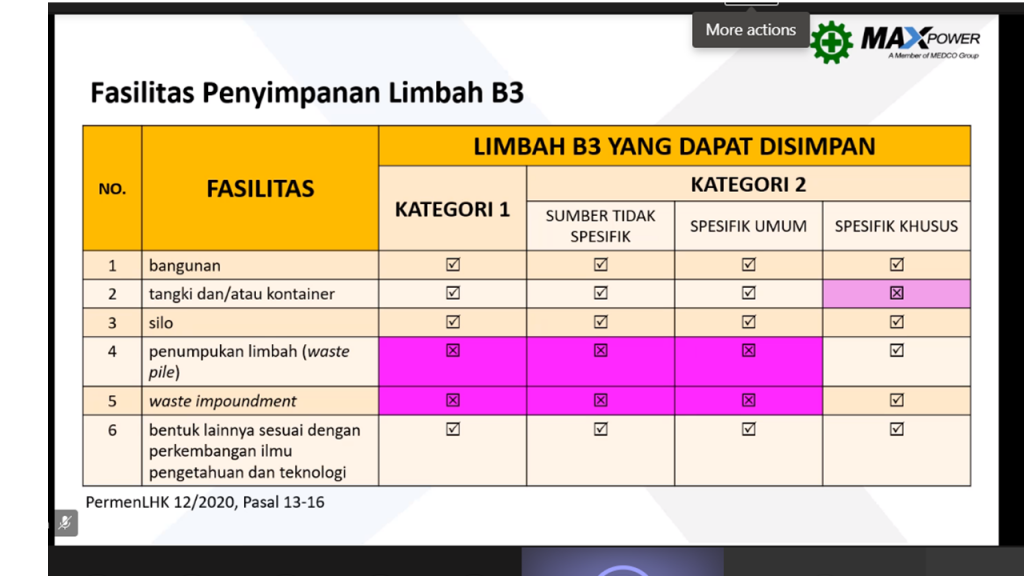 Friday, 8 Januari 2021 / Knowledge Sharing this time with theme "Social & Environmental: From Cradle to Grave" with speakers Irfan and Anggi Ayu Larissa from HSESS Maxpower Group team. This session was held online on Friday, 8 December 2020 at 09.00 WIB assisted by moderator and also MC, Anggi Retno Sarilita Yuantari as Recruitment & Training Specialist of the Maxpower Group.
In follow-up session of previous HSESS training on "Nurturing HSESS Management System: Behavior Based Safety", the theme this time highlighted the importance of B3 waste management in protecting the environment. Currently, the increasing cases of B3 waste generated pollution caused by illegal disposal of B3 waste are the result of industrial, mining, health and other activities. There are many factors that cause B3 waste to not be properly managed, including the lack of understanding of B3 waste management and lack of distribution of B3 waste management service industry.
The management of B3 waste itself has been regulated in the Constitution, and as stated, it is a series of activities which include reduction, storage, collection, transportation, utilization, processing and or landfilling. So, in its own management, a permit must be obtained and a provider of B3 waste must obtain a permit from the government. This is really very important, because if not processed properly it can pollute the environment and be harmful to health.
Knowledge Sharing is held regularly, every 1 (once) in a week with fun and educational themes!
Jumat, 8 Januari 2021/ Knowledge Sharing kali ini dengan tema "Social & Enviroment : From Cradle to Grave" dengan pembicara Irfan dan Anggi Ayu Larissa dari tim HSESS Maxpower Group. Sesi ini diselenggarakan secara daring pada hari Jumat, 8 Desember 2020 pada pukul 09.00 WIB dibantu oleh moderator sekaligus MC yaitu Anggi Retno Sarilita Yuantari selaku Recruitment & Training Specialist Maxpower Group.
Pada sesi lanjutan dari training HSES sebelumnya mengenai "Nurturing HSESS Management System: Behavior Based Safety", tema kali ini mengangkat mengenai pentingnya pengelolaan limbah B3 dalam menjaga pemeliharaan lingkungan. Saat ini meningkatkanya kasus pencemaran timbulan limbah B3 yang diakibatkan oleh pembuangan limbah B3 ilegal merupakan hasil dari kegiatan perindustrian, pertambangan, kesehatan dan lain sebagainya. Banyak faktor yang menyebabkan limbah B3 belum dikelola dengan baik, diantaranya adalah masih kurangnya pemahaman terhadap pengelollan limbah B3 dan masih terbatas juga belum tersebarnya industri jasa pengelolaan limbah B3.
Pengelolaan limbah B3 sendiri telah diatur dalam UUD, dan sebagaimana tercantum disebutkan bahwa hal tersebut adalah rangkaian kegiatan yang meliputi pengurangan, penyimpanan, pengumpulan, pengangkutan, pemanfaatan, pengolahan, dan/ atau penimbunan. Jadi dalam pengelolaannya sendiripun harus mendapatkan izin dan pengelola khusus limbah B3 tersebut harus mendapatkan izin dari pemerintah. Hal ini sungguh sangatlah penting, karena acpabila tidak diolah dengan baik dapat mencemarkan lingkungan dan berbahaya bagi kesehatan.
Knowledge Sharing rutin diselenggarakan secara rutin, setiap 1 (satu) minggu sekali dengan tema-tema yang fun dan juga tentu edukatif!