Internal Program 2021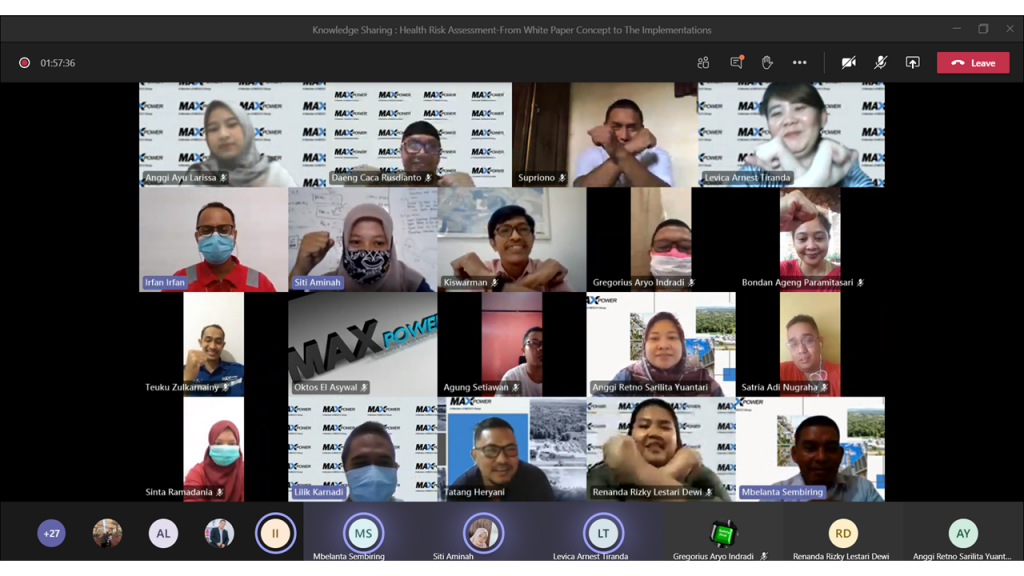 Knowledge Sharing : Health Risk Assessment – From White Paper Concept to The Implementation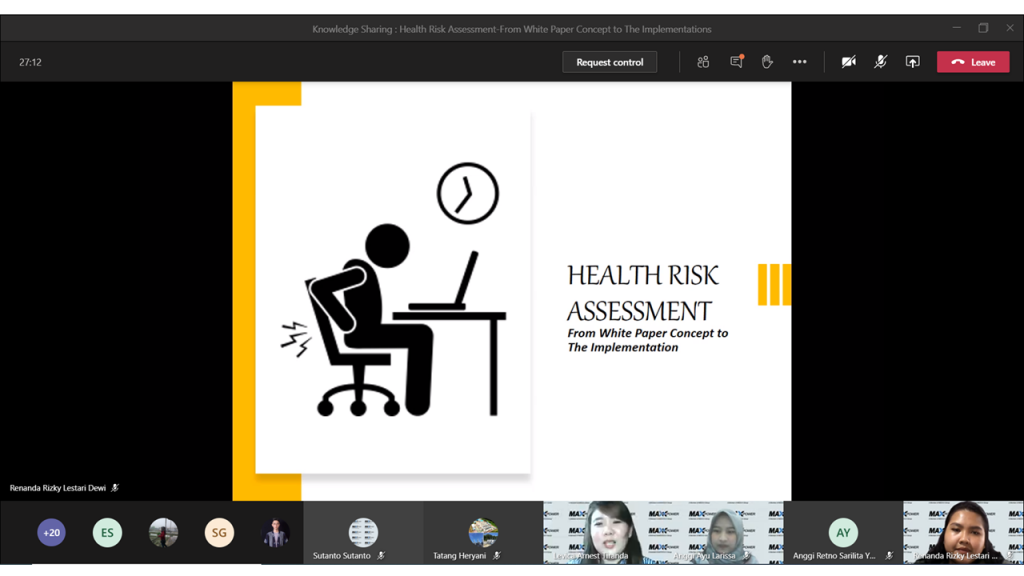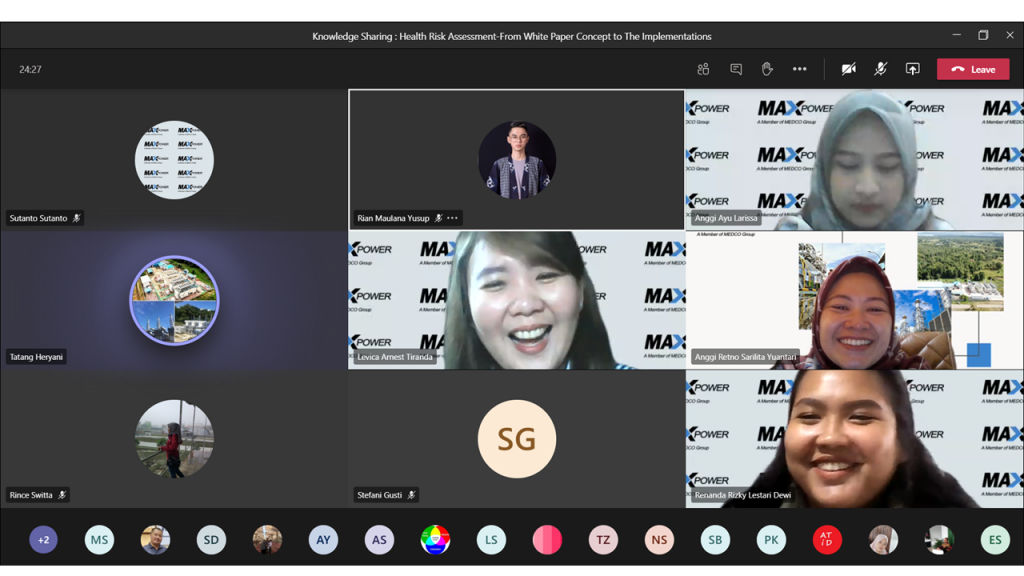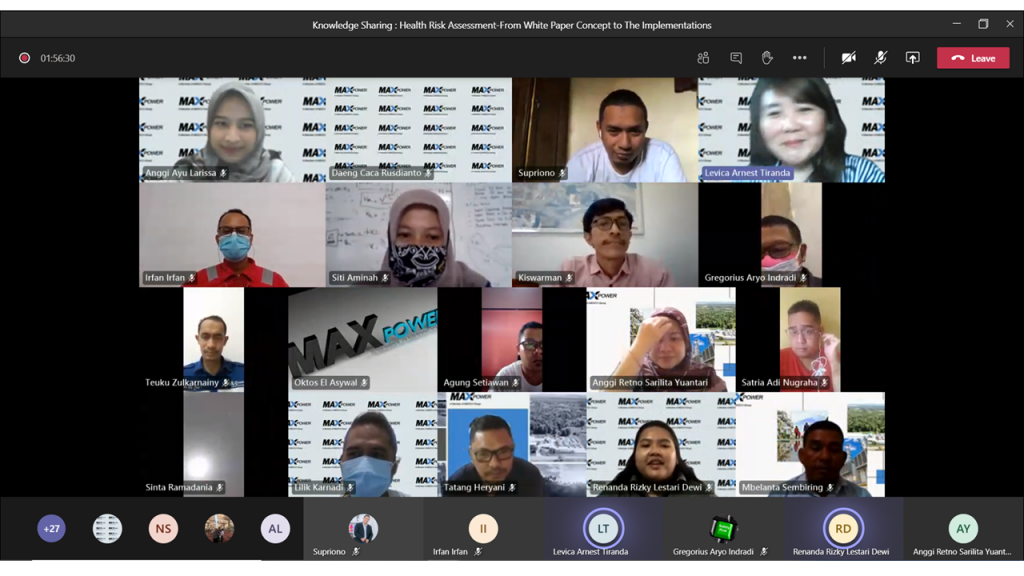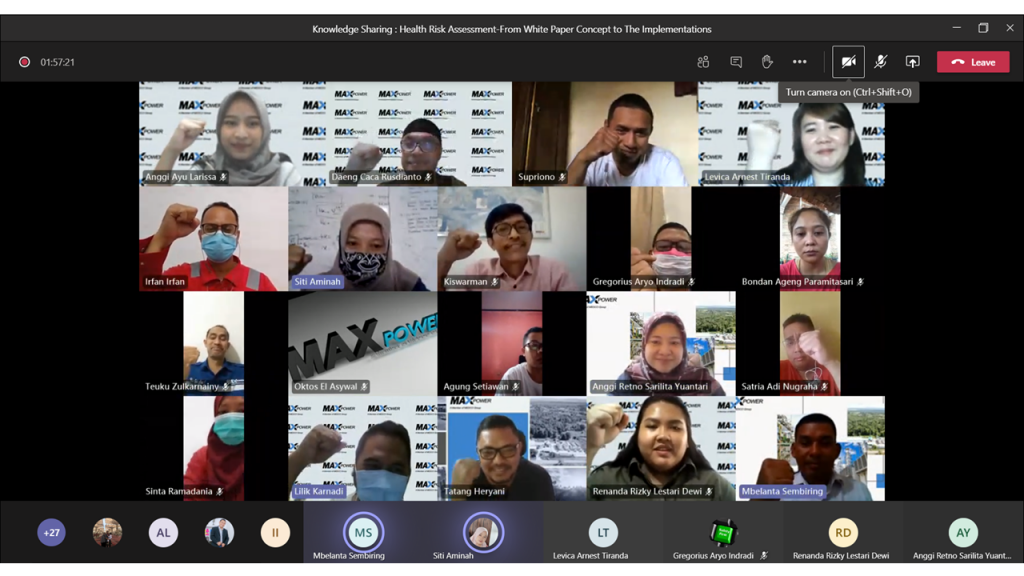 Friday, 15 January 2021 / Knowledge Sharing this time with theme "Health Risk Assessment: From White Paper Concept to The Implementation" with the speaker Renanda Rizky, dr. Levica Arnest, and Anggi Ayu Larissa from HSESS team of Maxpower Group. This session was held online on Friday, December 15 2020 at 09.00 WIB assisted by moderator and MC, Anggi Retno Sarilita Yuantari as  Recruitment & Training Specialist of Maxpower Group.
In the follow-up session of previous HSESS training on "Social & Environmental: From Cradle to Grave", the theme this time highlighted the importance of Health Risk Assessment (HRA) which is the basis for risk control, which can cause occupational health & safety problems. HRA itself is an assessment of risk caused by factors that can interfere with health. HRA is one (1) of quantitative risk assessment technique that can make it easier to understand the amount of risk and take control priorities. The purpose of HRA is not only as risk control, but also to be able to classify exposures according to job descriptions, to be able to assess the risk of a job done within the company according to their respective descriptions and as a reference for monitoring the health of workers in accordance with the hazards associated with his job.
Also in this session there are further explanation about work hazard factors that can threaten safety & health, such as:
Biological Hazard Factors; Fungi, Viruses, Bacteria, Plants, Animals
Chemical Hazard Factors; Gas, Liquid, Reactive, Radioactive, Flammable
Physical / Mechanical Hazard Factors; Altitude, Construction, Beart Machine / Tool, Confined Space, Pressure, Noise
Ergonomic Hazard Factors; Repetitive movements, work posture, manual transport, workplace design
Psychological Hazard Factors; Stress, Violence, Harassment, Exclusion, Intimidation
Knowledge Sharing is held regularly, every 1 (once) week with fun and educational themes!
Jumat, 15 Januari 2021/ Knowledge Sharing kali ini dengan tema "Health Risk Assessment : From White Paper Concept to The Implemention" dengan pembicara Renanda Rizky, dr. Levica Arnest, dan Anggi Ayu Larissa dari tim HSESS Maxpower Group. Sesi ini diselenggarakan secara daring pada hari Jumat, 15 Desember 2020 pada pukul 09.00 WIB dibantu oleh moderator sekaligus MC yaitu Anggi Retno Sarilita Yuantari selaku Recruitment & Training Specialist Maxpower Group.
Pada sesi lanjutan dari training HSESS sebelumnya mengenai "Social & Enviroment : From Cradle to Grave", tema kali ini mengangkat mengenai pentingnya Health Risk Assesment (HRA) yang  sebagai dasar pengendalian risiko, yang dapat menyebabkan gangguan kesehatan & keselamatan kerja. HRA sendiri adalah sebuah penilaian risiko yang disebabkan oleh faktor-faktor yang dapat mengganggu kesehatan. HRA merupakan salah 1 (satu) Teknik penilaian risiko secara kuantitatif yang dapat mempermudah untuk mengeathui besarnya risiko dan pengambilan prioritas pengendalian. Tujuan dari HRA selain sebagai pengendali risiko juga untuk dapat mengelompokkan pajanan sesuai dengan uraian pekerjaan, untuk dapat menilai risiko dari suatu pekerjaan yang dikerjaan di dalam perusahaan sesuai uraian masing-masing dan sebagai acuan untuk memantau kesehatan pekerja sesuai dengan bahaya (hazard) yang berkaitan dengan pekerjaannya.
Dijelaskan juga lebih lanjut mengenai faktor-faktor bahaya kerja yang dapat mengancam keselamatan & kesehatan, seperti :
Faktor Bahaya Biologi; Jamur, Virus, Bakteri, Tanaman, Binatang
Faktor Bahaya Kimia; Gas, Cair, Reaktif, Radioaktif, Mudah terbakar
Faktor Bahaya Fisik/ Mekanik; Ketinggian, Konstruksi, Mesin/ Alat Beart, Ruangan Terbatas, Tekanan, Kebisingan
Faktor Bahaya Ergonomi; Gerakan berulang, Postur posisi kerja, Pengangkutan manual, Design tempat kerja
Faktor Bahaya Piskologis; Stress, Kekerasan, Pelecehan, Pengucilan, Intimidasi
Knowledge Sharing rutin diselenggarakan secara rutin, setiap 1 (satu) minggu sekali dengan tema-tema yang fun dan juga tentu edukatif!