Event & Announcement 2021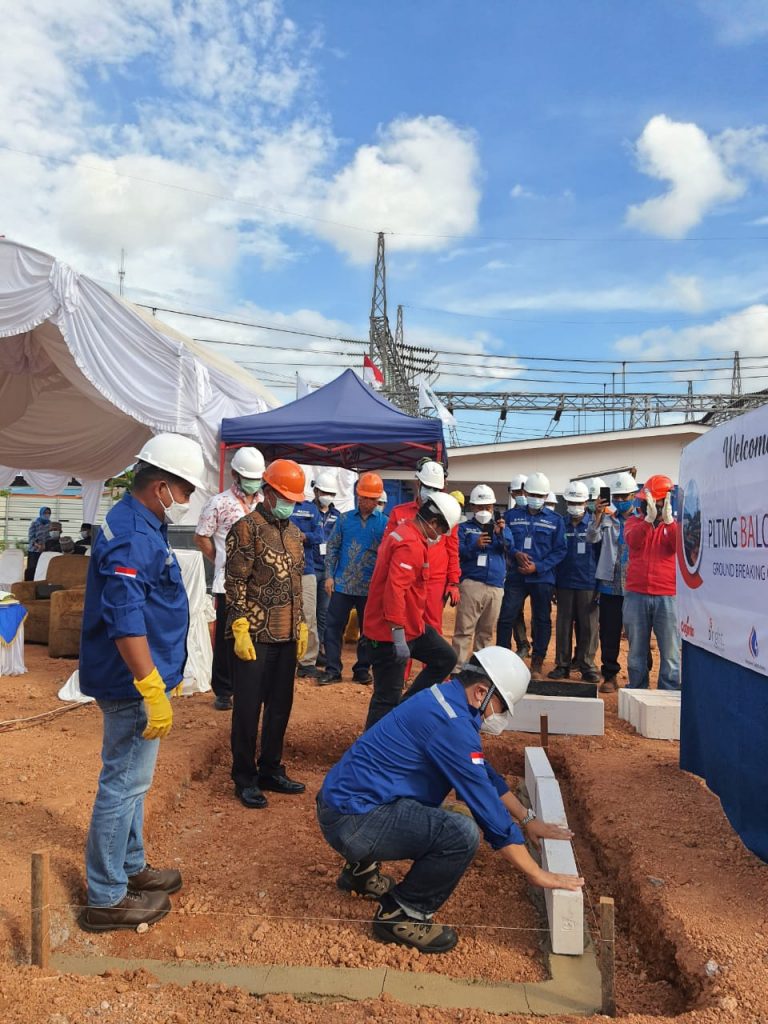 Ground Breaking Ceremony PLTMG BALOI 30MW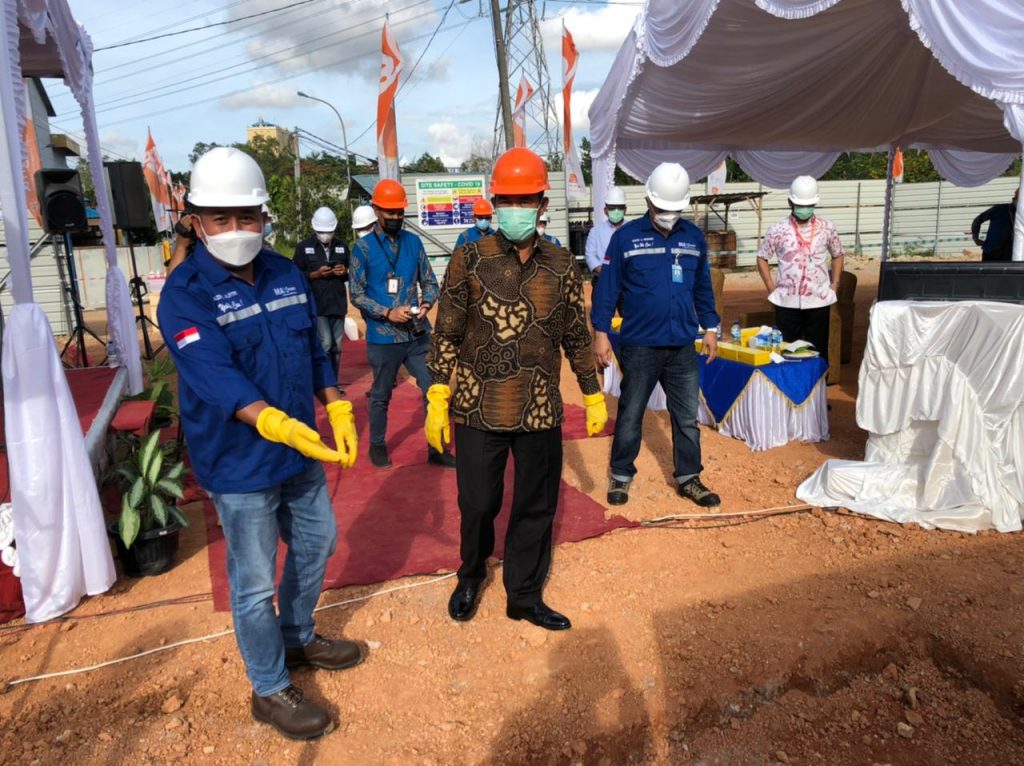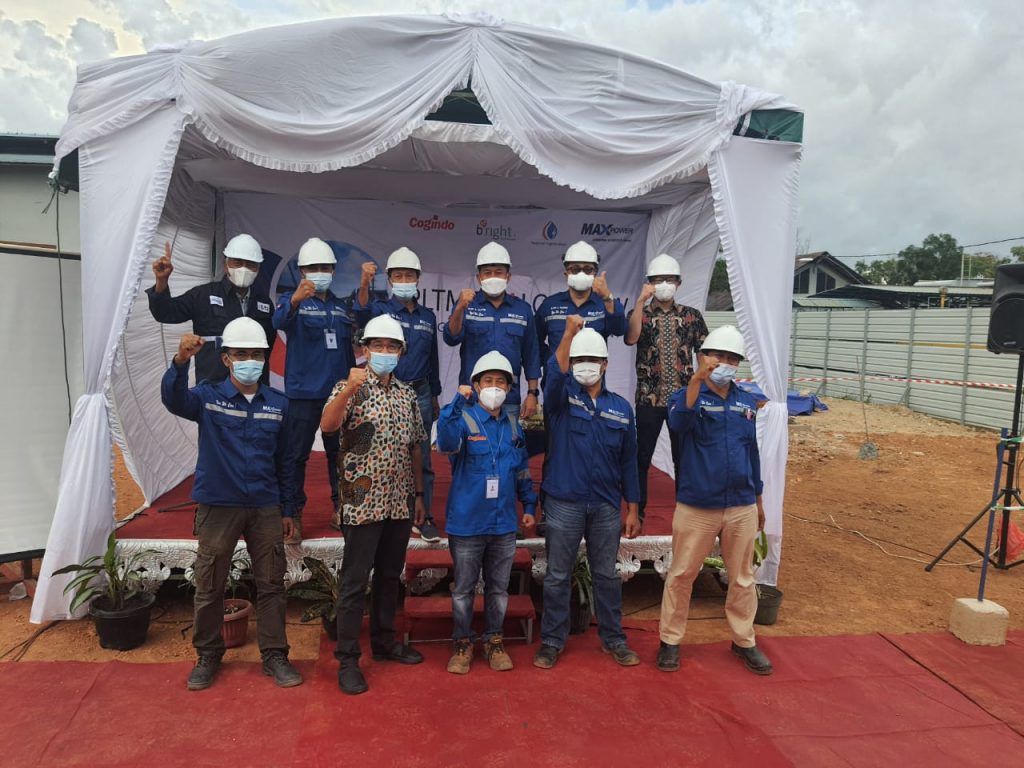 Friday, 12 March 2021/ PT. Maxpower Cogindo Batam is consortium business between Maxpower Indonesia and PT. Cogindo DayaBersama supported by b'right PLN Batam, assemble together a 30 Mega Watt (MW) Gas Engine Power Plant (PLTMG) project in Baloi, Batam. This project was marked with a Ground Breaking Ceremony on Friday, 12 March 2021, as the start of the development construction project. The ceremony was held both offline and viewed online by many stakeholders
This ceremony was attended by Chief Executive Officer of Maxpower Group, Fazil Erwin Alfitri, Chief Business Development Officer of Maxpower Group, Gatot S. Prawiro, and President Director of bright PLN Batam Budi Pangestu, as well as the Board of Directors of b'right PLN Batam.
The joint commitment to work on this development is on time and on quality, in accordance with the core competencies of Maxpower Group which already has a lot of experience in building power plants throughout Indonesia & Myanmar from small to large capacities, explained Fazil. Furthermore, he said that "We hope that PLTMG Baloi can help Batam people improve the economy and enjoy electricity reliably and cooperation with PLN Batam in the future can continue".
According to Budi Pangestu, the development of PLTMG Baloi 30 MW, it will be a great support for Batam-Bintan electricity system to going forward. He also mention regarding 4 pillars PLN transformation program; Green, Innovative, Customer Focused and Lean. PLTMG Baloi is one of PLN Batam's programs in creating clean and green energy in addition to the development of New and Renewable Energy. We also hope that the existence of gas-fired generators can reduce the cost of providing electricity and reduce the use of oil-fired generators.
Development in the electricity sector aims to support one of the national development goals, advancing public welfare and the intellectual life of the nation as well as playing an important role in infrastructure development in the city of Batam.
To see the record and news on PLTMG 30 MW ground breaking ceremony, please check below link sourced from various media :
Jumat, 12 Maret 2021/ PT. Maxpower Cogindo Batam yang merupakan hasil kerjasama Maxpower Indonesia dengan PT. Cogindo DayaBersama didukung oleh b'right PLN Batam, bersama membangun proyek Pembangkit Listrik Tenaga Mesin Gas (PLTMG) 30 Mega Watt (MW) di Baloi, Batam. Pembangunan ini ditandai dengan acara peletakan batu pertama (Ground Breaking Ceremony) pada hari jumat, 12 Maret 2021, yang merupakan simbol dimulainya pembangunan proyek ini. Acara ini diselenggarakan baik secara offline dan dilihat secara online dari banyak pemangku kepentingan.
Acara ini dihadiri oleh Chief Executive Officer Maxpower Group, Fazil Erwin Alfitri, Chief Business Development Officer Maxpower Group, Gatot S. Prawiro, dan Direktur Utama bright PLN Batam Budi Pangestu, serta jajaran Direksi b'right PLN Batam.
Komitmen bersama untuk mengerjakan pembangunan tersebut dengan tepat waktu dan tepat kualitas, sesuai dengan core competencies dari Maxpower Group yang sudah memiliki banyak pengalaman dalam membangun pembangkit di seluruh Indonesia & Myanmar mulai dari kapasitas kecil hingga besar. Lebih lanjut CEO Maxpower Group, Fazil E. Alfitri mengatakan bahwa "Harapan kami semoga PLTMG Baloi dapat membantu masyarakat Batam meningkatkan perekonomian dan menikmati listrik secara andal serta kerjasama dengan PLN Batam kedepannya dapat terus berlanjut.",  jelas CEO Maxpower Group.
Menurut Budi Pangestu, pembangunan PLTMG Baloi 30 MW  akan sangat menopang sistem kelistrikan Batam-Bintan kedepannya. Pembangunan PLTMG Baloi 30 MW juga ternyata mendukung program transformasi PLN melalui 4 pilar yaitu; Green, innovative, Customer Focused dan Lean. PLTMG Baloi menjadi salah satu program dari PLN Batam dalam menciptakan clean dan green energy selain pengembangan Energi Baru dan Terbarukan (EBT). Harapan dengan adanya pembangkit berbahan bakar gas dapat menurunkan Biaya Pokok Penyediaan tenaga listrik dan dapat mengurangi penggunaan pembangkit berbahan bakar minyak (MFO).
Pembangunan pada sektor ketenagalistrikan bertujuan untuk mendukung salah satu dari tujuan pembangunan nasional yaitu memajukan kesejahteraan umum dan mencerdaskan kehidupan bangsa serta juga memegang pernan penting dalam pembangunan infrastruktur di kota Batam.
Untuk melihat catatan dan berita tentang upacara peletakan batu pertama pltmg 30 mw, silakan cek link di bawah ini yang sumbernya berasal dari berbagai media :
5. Instagram PLN Batam https://www.instagram.com/p/CMUe5sGszBp/