Event & Announcement 2021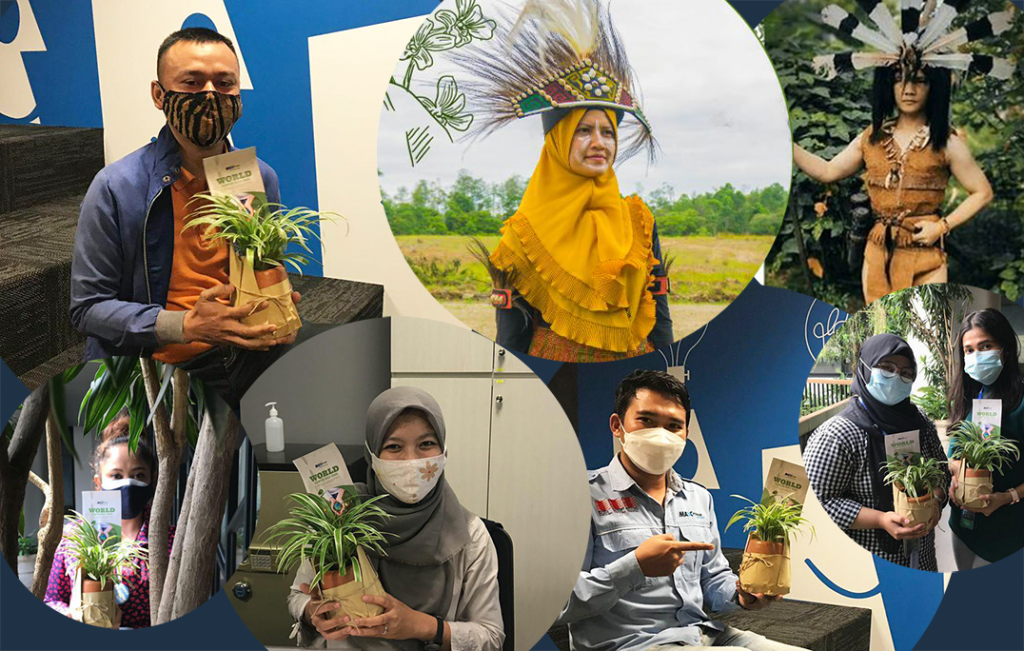 Kartini & Earth Day 2021 Celebration
Thursday, 23 April 2021 / In commemoration of Kartini Day which falls every April 21st and World Earth Day the day after on April 22nd, Maxpower Group organizes various activities that aim to raise awareness and continue to be agents of change in conservation environment. These activities include wearing traditional clothing while working both from home and in the office/ site area and movie time event by watching Netflix documentary film together entitled "Seaspiracy" which tells about the facts of environmental damage at sea.
On April 21, Maxpower Group invites all employees to wear traditional Indonesian clothing during working hours. This campaign aims to commemorate and honor the struggle of R.A. Kartini to realize equality of opportunity between men and women in the modern era. Then each of them documented themself using traditional clothes and uploaded their photos on social media so that this campaign could become awareness for the surrounding environment. The next day, together with Maxpower Group employees & partners, participated in movie time event by watching Netflix documentary film together. This event was held virtually and offline and which was held at the BSD Head Office, Tangerang. Participants who attend offline continue to apply the applicable health protocols as well as capacity restrictions (no more than 15 participants).
The hope of holding this activity is to be able to make this celebration a momentum to change the mindset and behavior of people who tend to exploit nature excessively and are not oriented towards saving the earth and everything in it. Because human awareness of the importance of the environment for both land and sea life is still very low.
Kamis, 23 April 2021/ Dalam rangka memperingati Hari Kartini yang jatuh setiap tanggal 21 April dan Hari Bumi Internasional (World Earth Day) sehari setelahnya pada 22 April, Maxpower Group menyelenggarakan berbagai kegiatan yang bertujuan untuk dapat membangkitkan kesadaran dan terus menjadi agen perubahan dalam pelestarian lingkungan. Kegiatan tersebut antara lain adalah menggunakan pakaian adat tradisional selama bekerja baik dari rumah dan di kantor/ site area dan juga acara Nobar (Nonton Bareng) film documenter produksi Netflix yang berjudul "Seaspiracy" yang menceritakan mengenai fakta-fakta kerusakan lingkungan hidup di laut.
Pada tanggal 21 April, Maxpower Group mengajak seluruh karyawan untuk menggunakan pakaian adat tradisional Indonesia selama waktu kerja. Kampanye ini bertujuan untuk untuk memperingati dan menghormati perjuangan R.A. Kartini untuk mewujudkan kesetaraan kesempatan antara laki-laki dan perempuan di era modern. Kemudian masing-masing medokumentasikan dirinya dengan menggunakan pakaian adat lalu mengupload foto tersebut di sosial media agar kampanye ini dapat menjadi awareness bagi lingkungan sekitar. Pada besok harinya bersama-sama karyawan & mitra Maxpower Group mengikuti acara Nobar yang diselenggarakan secara virtual dan juga offline yang diselenggarakan di Head Office BSD, Tangerang. Peserta yang hadir secara offline tetap melakukan protokoler kesehatan yang berlaku juga pembatasan kapasitas (tidak lebih dari 15 peserta).
Harapan dari diselenggarakannya kegiatan ini adalah untuk dapat menjadikan perayaan ini sebagai momentum untuk mengubah pola pikir dan perilaku masyarakat yang cenderung mengekploitasi alam secara berlebihan dan tidak berorientasi pada penyelamatan bumi dan seisinya. Karena kesadaran manusia akan pentingnya lingkungan bagi kehidupan baik darat dan lautan masih sangat rendah.