Internal Program 2021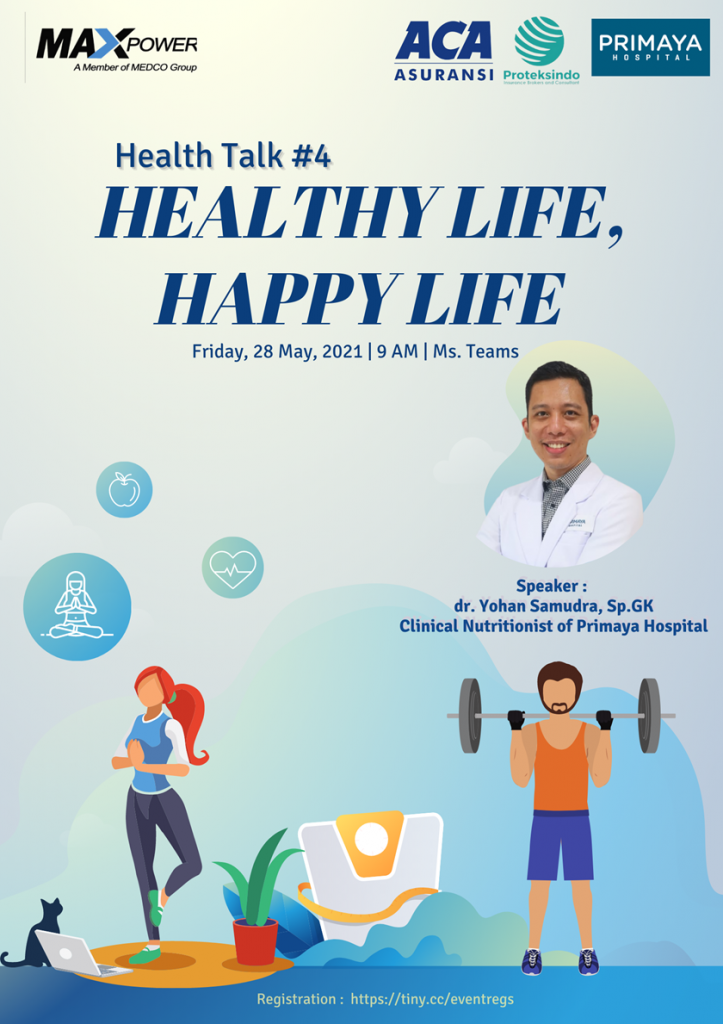 Health Talk #4 : Healthy Life, Happy Life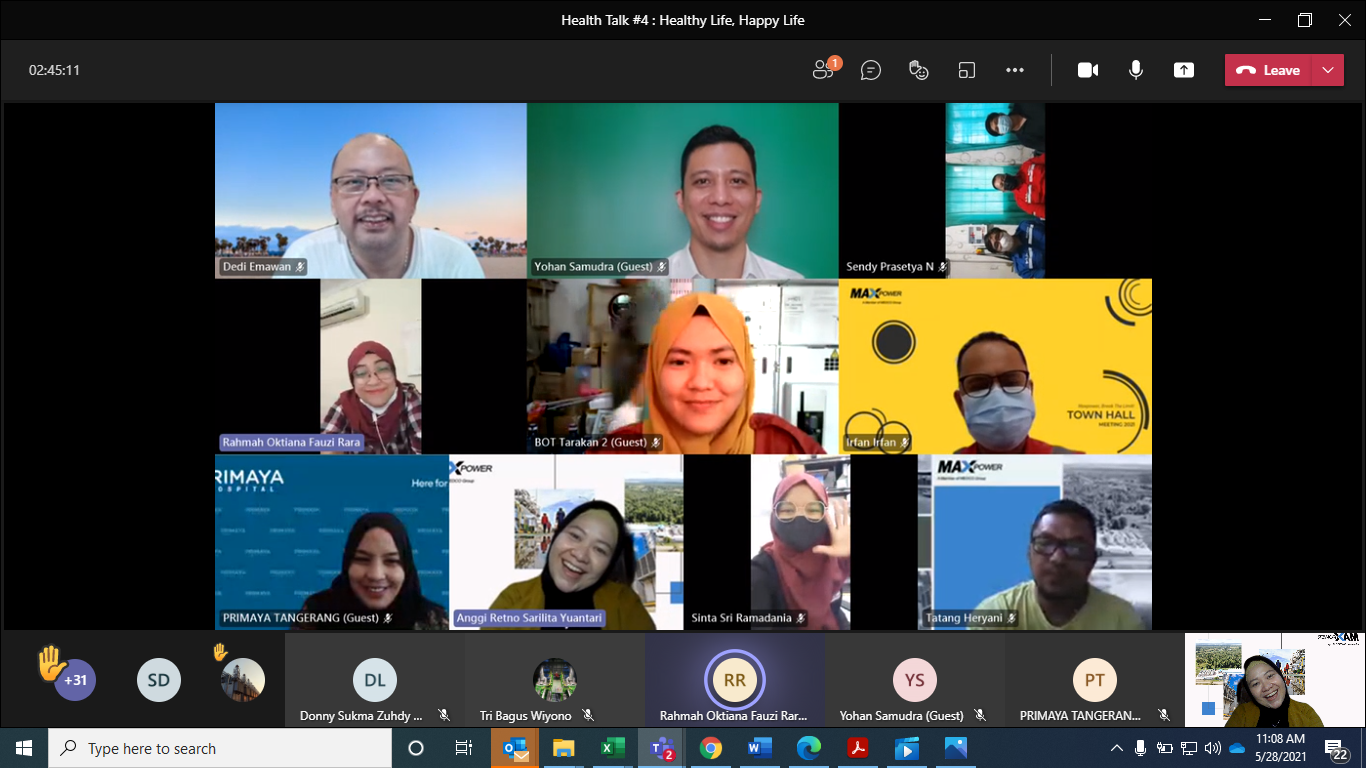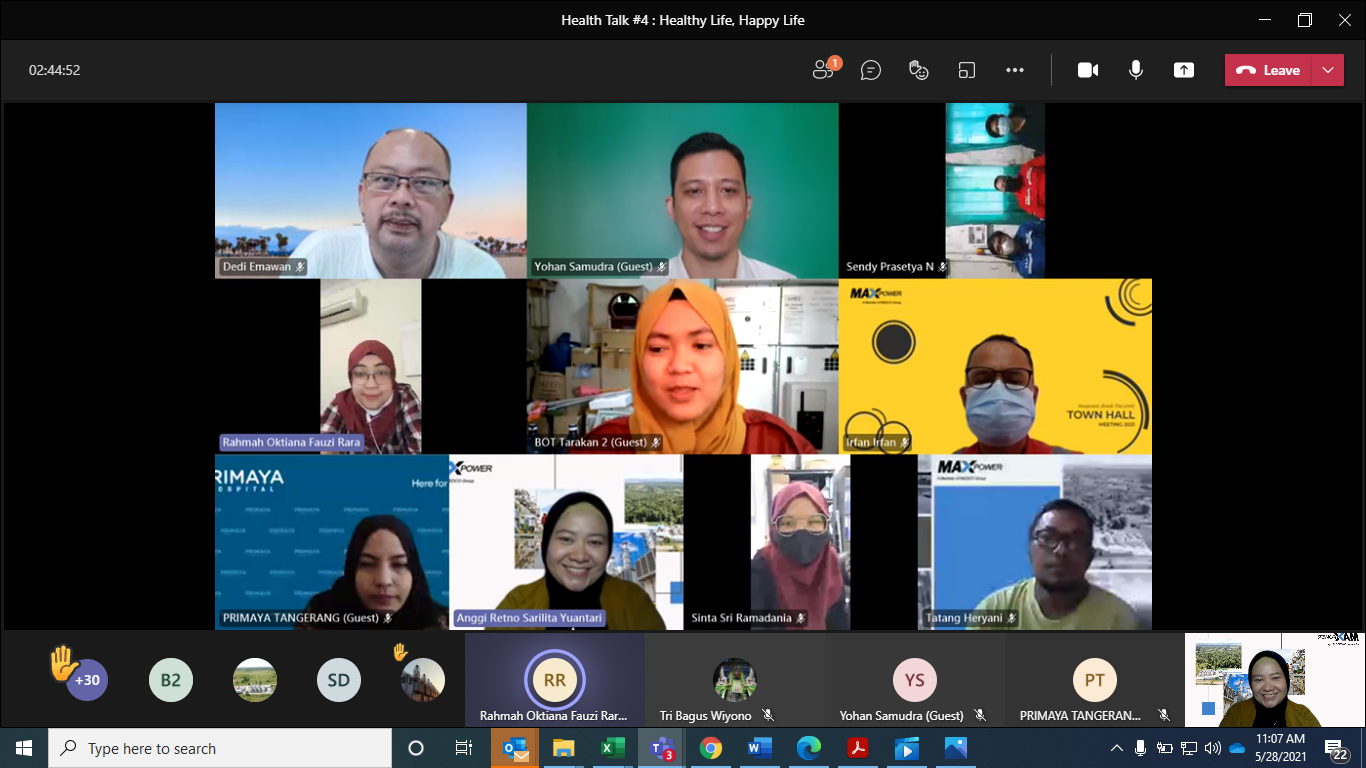 Friday, May 28, 2021 / Maxpower Group in collaboration with ACA Insurance, Primaya Hospital and Proteksindo held Health Talk series 4 with the theme "Healthy Life, Happy Life" by presenting, dr. Yohan Samudra, Sp. GK. , Clinical Nutritionist from Primaya Hospital. Health Talk # 4 was held online on Friday, May 28, 2021 at 09.00 WIB assisted by moderator, Anggi Retno Sarilita Yuantari as Recruitment & Training Specialist of Maxpower Group.
This session explains the importance of taking care our health by maintaining a good digestive system. This is because the health of the digestive tract is closely related to the immune system. If the digestive system is healthy, the immune system will become stronger. Healthy digestion can prevent us from various diseases, such as GERD, stomach ulcers, hepatitis, gallstones, irritable bowel syndrome, Celiac disease, haemorrhoids, to cancer.
Almost 70% of the immune system components are found in intestinal tissue, because in the intestines live good bacteria or probiotics that function to protect and maintain a healthy digestive system. For the number of bacteria to be maintained, it is necessary to consume food with prebiotics. Prebiotics can be obtained from fruits and vegetables that are high in fiber, such as apples, bananas, or asparagus. In addition, prebiotics can also be obtained from garlic, onions, oats, flax seeds, cocoa beans, seaweed, or you can also consume probiotic drinks to maintain the balance of good bacteria in the intestines.
The next Health Talk series is planned to be held again by Human Capital team of Maxpower Group with fun and educational themes!
Jumat, 28 Mei 2021/ Maxpower Group bekerja sama dengan ACA Insurance, Primaya Hospital dan Proteksindo menyelenggarakan kembali Health Talk seri 4 dengan tema "Healthy Life, Happy Life" dengan menghadirkan pembicara dr. Yohan Samudra, Sp. GK. , Dokter Spesialis Gizi dari Primaya Hospital. Health Talk #4 ini diselenggarakan secara daring pada hari Jumat, 28 Mei 2021 pada pukul 09.00 WIB dibantu oleh moderator yaitu Anggi Retno Sarilita Yuantari selaku Recruitment & Training Specialist Maxpower Group.
Pada sesi ini dijelaskan mengenai pentingnya menjaga kesehatan dengan cara menjaga sistem pencernaan yang baik. Hal ini disebabkan karena kesehatan saluran pencernaan sangat berkaitan erat dengan daya tahan tubuh. Apabila sistem pencernaan terjaga kesehatannya, maka daya tahan tubuh pun akan menjadi lebih kuat, begitu pun sebaliknya. Pencernaan yang sehat dapat membuat kita terhindar dari berbagai macam penyakit, seperti GERD, tukak lambung, hepatitis, batu empedu, irritable bowel syndrome, penyakit Celiac, wasir, hingga kanker.
Hampir 70% komponen sistem kekebalan tubuh terdapat pada jaringan usus, karena di dalam usus hidup bakteri baik atau probiotik yang berfungsi untuk melindungi dan memelihara kesehatan sistem pencernaan. Agar jumlah bakteri tetap terjaga, perlu diberi asupan makanan yang disebut dengan prebiotik. Prebiotik bisa diperoleh dari buah dan sayuran yang tinggi serat, misalnya apel, pisang, atau asparagus. Selain itu, prebiotik juga bisa didapat dari bawang putih, bawang merah, oat, biji rami, biji kakao, rumput laut atau juga bisa mengkonsumsi minuman probiotik untuk memelihara keseimbangan bakteri baik di dalam usus.
Seri Health Talk lanjutan rencananya akan diselenggarakan kembali oleh tim Human Capital Maxpower dengan tema-tema yang fun dan juga tentu edukatif!