Internal Program 2021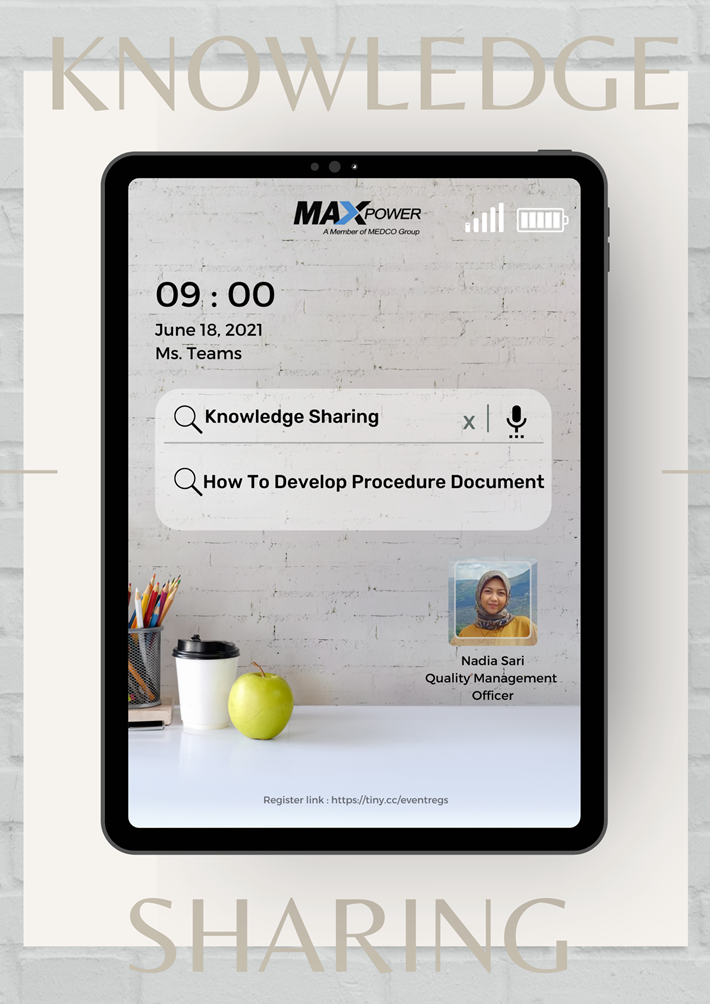 Knowledge Sharing : How To Develop Procedure Document
Friday, 18 June 2021 / Knowledge Sharing this time with theme "How To Develop Procedure Document – How to make a good and correct work procedure/Standard Operating Procedure (SOP) document?" with speaker Nadia Sari from Internal Audit & Quality Management Department Maxpower Group. This session was held online on Friday, February 5, 2021 at 09.00 WIB with the help of moderator, Anggi Retno Sarilita Yuantari as Recruitment & Training Specialist of Maxpower Group .
Nadia explained what "Work Procedures" are; work guidelines that contain the mechanism, sequence and work processes of an activity ­in a unit that aims to support the implementation of a quality management system (Van Houten, 2000). Usually the work procedure is packaged in a written document. Then Nadia explained in more detail about making the stages of a business process used to ensure that a product or service has been running consistently. This aims to ensure that sustainable changes go well in line with the company's strategy & regulations. Employees are expected to be able to carry out the business process properly and correctly.
Further knowledge sharing is planned to be held again by Maxpower Human Capital team with fun and educational themes!
Jumat, 18 Juni 2021/ Maxpower Group kembali menyelenggarakan Knowledge Sharing dengan menghadirkan pembicara dari departemen Internal Audit & Quality Management, yaitu Nadia Sari yang akan menjelaskan mengenai "How To Develop Procedure Document" – bagaimana cara membuat dokumen prosedur kerja/ Standar Operasional Prosedur (SOP) yang baik dan benar? Sesi yang diselenggarakan secara daring pada hari Jumat, 18 Juni 2021 ini, dibantu oleh seorang moderator yaitu Anggi Retno Sarilita Yuantari selaku Recruitment & Training Specialist Maxpower Group.
Awalnya Nadia menjelaskan mengenai apa itu "Prosedur Kerja", yaitu pedoman kerja yang berisi mekanisme dan urutan dan proses kerja dari suatu kegiatan atau aktifitas pada suatu unit yang bertujuan untuk menunjang penerapan sistem manjemen mutu (Van Houten, 2000). Biasanya prosedur kerja dikemas dalam dokumen tertulis. Kemudian Nadia menjelaskan lebih rinci mengenai pembuatan tahapan-tahapan dari suatu business process yang digunakan untuk memastikan bahwa suatu produk atau layanan telah berjalan dengan konsisten. Hal ini bertujuan memastikan agar perubahan yang berkelanjutan berjalan dengan baik seiring dengan strategi perusahaan & regulasi. Para karyawan diharapkan dapat menjalankan business process tersebut dengan baik dan benar.
Knowledge Sharing lanjutan rencananya akan diselenggarakan kembali oleh tim Human Capital Maxpower dengan tema-tema yang fun dan juga tentu edukatif!