Internal Program 2022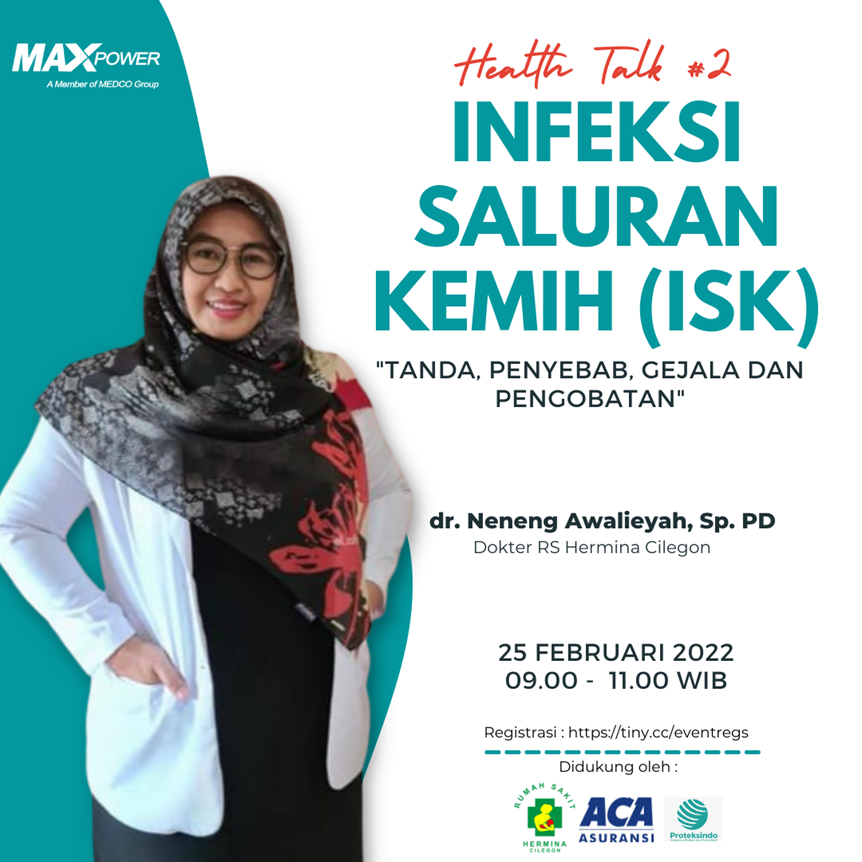 Health Talk #2 in 2022 : "Urinary Tract Infection: Signs, Causes, Symptoms and Treatment"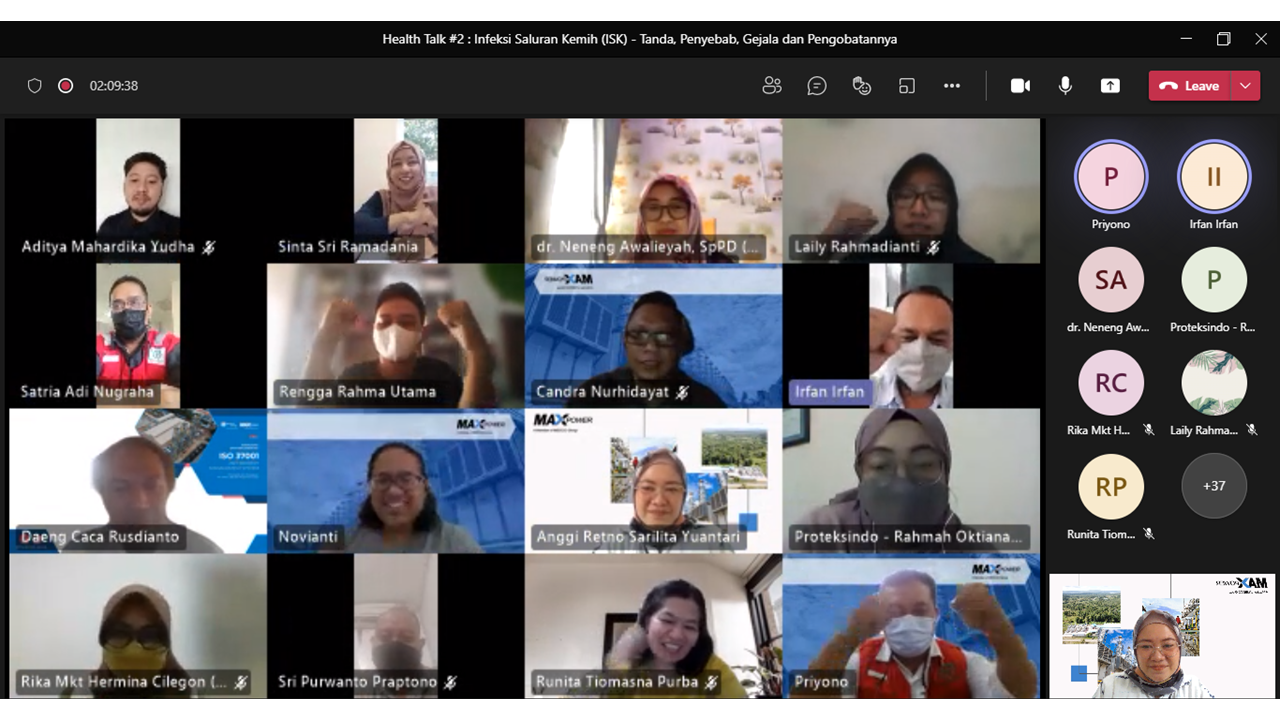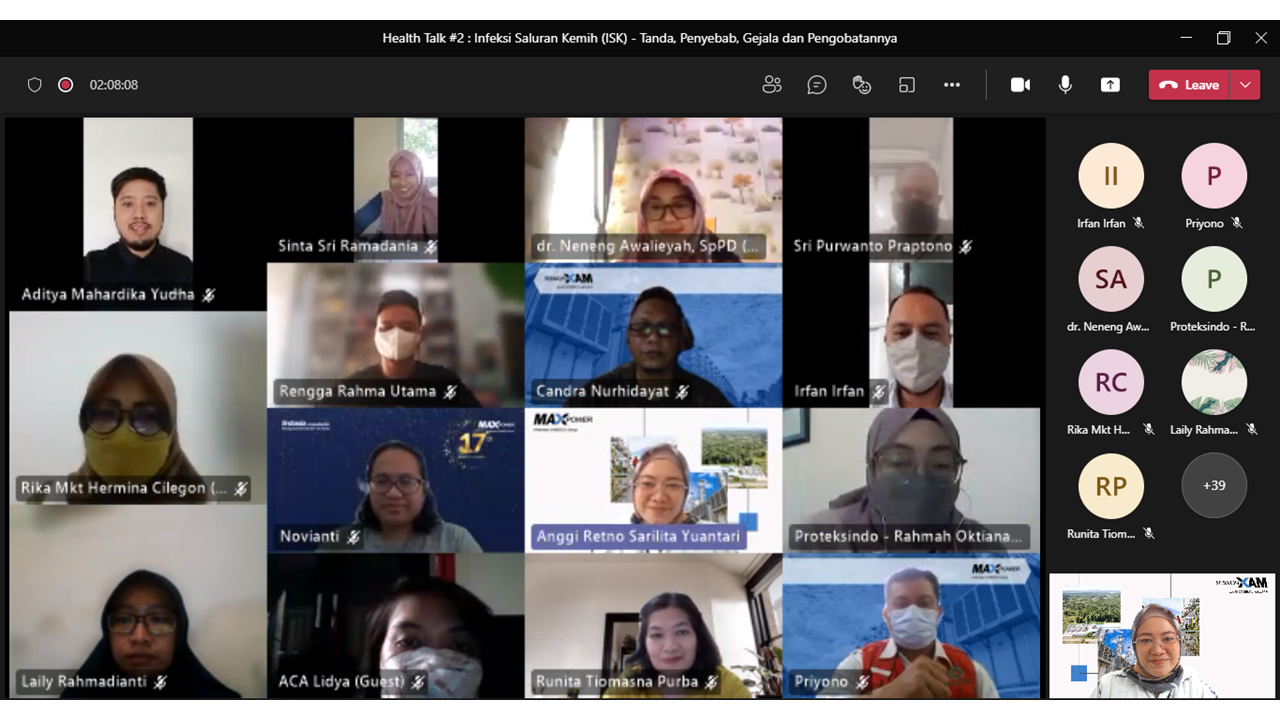 Wednesday, January 29, 2022/ Maxpower Group in collaboration with ACA Insurance, Hermina Cilegon Hospital and Proteksindo, present Health Talk series #2 in 2022, with theme "Urinary Tract Infection: Signs, Causes, Symptoms and Treatment" by presenting speaker dr. Neneng Awalieyah Sp.PD, Internist from Hermina Cilegon Hospital and assisted by a moderator Anggi Retno Sarilita Yuantari as Recruitment & Training Specialist of Maxpower Group. This event was held online on Wednesday, January 29, 2022, at 13.30 WIB.
On this occasion, dr. Neneng Awalieyah Sp.PD explained about the causes of Urinary Tract Infections (UTI) which are important to know. UTI is a condition when the organs included in the urinary system (kidneys, ureters, bladder, and urethra) are infected by bacteria. Furthermore dr. Neneng explained about what symptoms are usually felt by patients who have UTIs, and what first aid can be done and subsequent treatment.
The next Health Talk series is planned to be held again by Human Capital team of Maxpower Group with fun and educational themes!
Jumat, 25 Februari 2022/ Maxpower Group bekerja sama dengan ACA Insurance, RS Hermina Cilegon dan Proteksindo menyelenggarakan kembali Health Talk seri #2 di tahun 2022 dengan tema "Infeksi Saluran Kemih (ISK): Tanda, Penyebab, Gejala dan Pengobatannya" dengan menghadirkan pembicara dr. Neneng Awalieyah Sp.PD, spesialis penyakit dalam RS Hermina Cilegon. Acara ini diselenggarakan secara daring pada hari Jumat, 25 Februari 2022 pada pukul 09.00 WIB dibantu oleh moderator yaitu Anggi Retno Sarilita Yuantari selaku Recruitment & Training Specialist Maxpower Group.
Dalam kesempatan ini, dr. Neneng Awalieyah Sp.PD menjelaskan mengenai penyebab infeksi saluran kemih yang penting untuk diketahui. Infeksi saluran kemih (ISK) sendiri adalah kondisi ketika organ yang termasuk dalam sistem kemih (ginjal, ureter, kandung kemih, dan uretra) mengalami infeksi akibat bakteri. Kemudian dr. Neneng juga menjelaskan mengenai gejala apa yang biasa dirasakan oleh pasien yang mengalami ISK tersebut, dan pertolongan pertama apa yang dapat dilakukan serta pengobatan selanjutnya.
Seri Health Talk lanjutan rencananya akan diselenggarakan kembali oleh tim Human Capital Maxpower dengan tema-tema yang fun dan juga tentu edukatif!