Internal Program 2022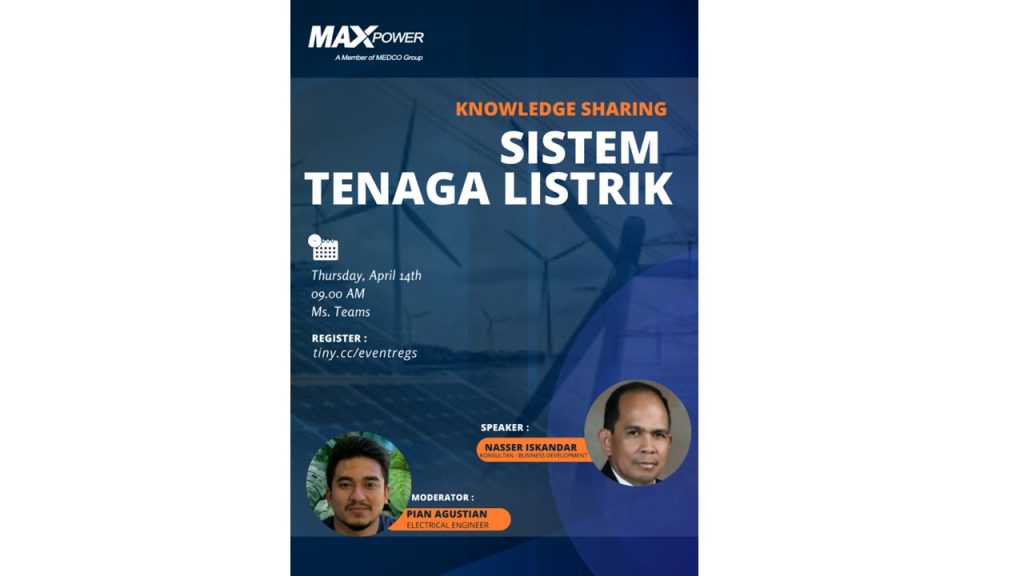 Knowledge Sharing : Electric Power System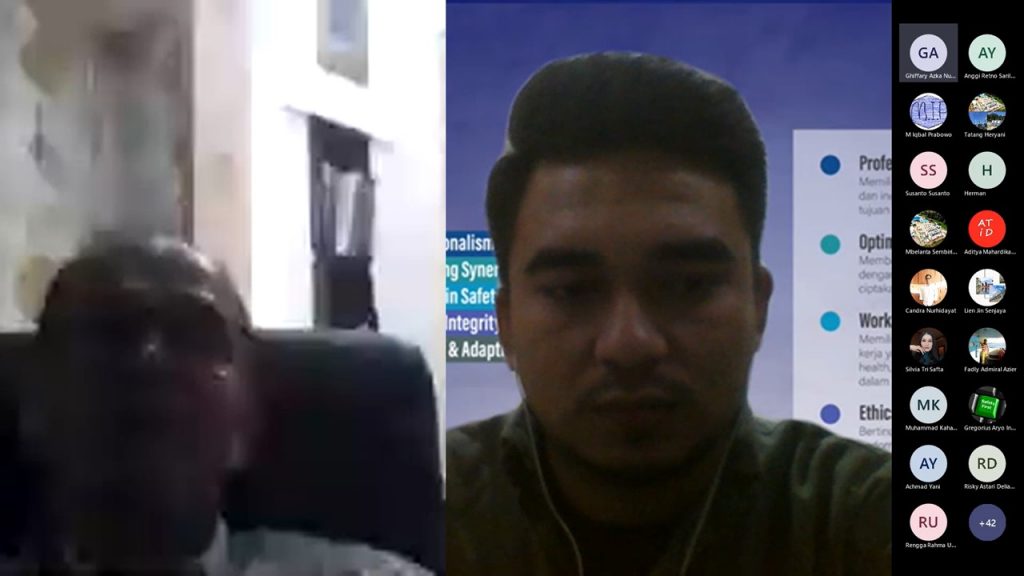 Thursday, April 14, 2022/ "Knowledge Sharing Event" is one of Maxpower Group regular event, and this week come up with a theme "Electric Power System" by presenting speaker Nasser Iskandar as Business Development Consultant of Maxpower Group and assisted by moderator Pian Agustian as Electrical Engineer of Maxpower Group. This event was held online on Thusday, April 14, 2022, at 09.00.
According to Nasser, the electric power system is a system consisting of:
Power Plants (PLTU, PLTG/U, PLTA, PLTP, PLTD etc.);
Transmission Lines (SUTT, SKTT, SUTET); and
Distribution Network (SUTM, SKTM, SUTR, SKTR)
Which serves to distribute power from the Generating Centre to the load centres. The purpose of the operation of the electric power system are for electricity to be operated economically (but with due regard to reliability and quality), to increase system security against possible disturbances without causing blackouts on the consumer side and to measure the quality of the voltage and frequency of electricity. So that with a good, efficient, and effective electric power system, good control of the operation of the electric power system can occur.
Knowledge Sharing is routinely held by the Human Capital of Maxpower Group team with fun and educational themes!
Kamis, 14 April 2022/ Knowledge Sharing kali mengangkat tema "Sistem Tenaga Listrik" dengan menghadirkan pembicara Nasser Iskandar selaku Konsultan – Business Development Maxpower Group, dan dibantu oleh Moderator Pian Agustian selaku Electrical Engineer Maxpower Group. Acara ini diselenggarakan secara daring pada hari Kamis 14 April 2022 pukul 09.00.
Menurut Nasser, sistem Tenaga Listrik merupakan sistem yang yang terdiri dari:
1. Pusat Pembangkit (PLTU, PLTG/U, PLTA, PLTP, PLTD dlsb);
2. Saluran Transmisi (SUTT, SKTT, SUTET); dan
3. Jaringan Distribusi (SUTM, SKTM, SUTR, SKTR)
Yang berfungsi untuk menyalurkan daya dari Pusat Pembangkit ke Pusat-pusat beban. Tujuan dari operasi sistem tenaga Listrik adalah agar listrik dioperasikan secara ekonomis, tetapi dengan tetap memperhatikan keandalan dan kualitas, meningkatkan keamanan sistem terhadap kemungkinan terjadinya gangguan tanpa mengakibatkan pemadaman di sisi konsumen dan dapat mengukur kualitas tegangan dan frekuensi Listrik. Sehingga dengan system tenaga listrik yang baik, efisien, dan efektif dapat terjadi pengendalian yang baik dari pengoperasian sistem tenaga Listrik tersebut.
Knowledge Sharing secara rutin diselenggarakan oleh tim Human Capital Maxpower Group dengan tema-tema yang fun dan juga tentu edukatif!