Internal Program 2022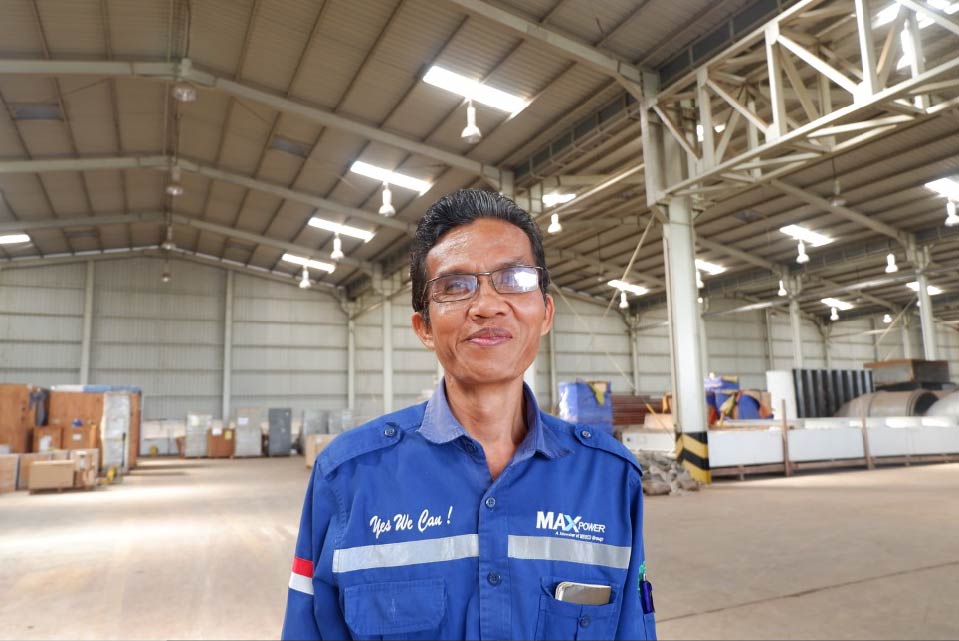 Interview with Jhon Oliver Manurung – Warehouse & Exim Staff MPI (Batam)
Jhon Oliver Manurung
Warehouse & Exim Staff MPI (Batam)
2013 – 2020 NEI Driver – Navigat Consulting Group Driver – MPI Office Batam Driver
2021 Warehouse & Exim Staff NEI
2022 – now Warehouse & Exim Staff MPI
Jhon's initial career at Maxpower was as a driver at Navigat in 2013. During his journey, John briefly moved to Navigat Group Consulting and then at PT Maxpower Indonesia (MPI) as a driver and helped with several administrative tasks of the General Affairs Department located at Batam Branch Office Batam.
In December 2021, John received information on internal recruitment as NEI Warehouse & Exim Staff through Internal Job Posting sent by Human Capital. Based on the advice of his colleague, Aditya, Jhon finally agreed to join the internal recruitment.
Effectively Jhon succeeded in becoming NEI's Warehouse & Exim Staff in January 2022, and in August 2022 Jhon moved to MPI's Warehouse & Exim Staff until now.
                   Jhon's obstacle at the beginning of working as a Warehouse & Exim Staff was that he has zero experience in the warehouse & logistics field and still not used to using electronic devices such as computers or laptops. However, with the support and assistance from his colleagues and superiors, finally Jhon managed to overcome the challenge. John also didn't forget to always learn and actively participate in the trainings given by company.
Jhon always start the day with prayer and keep being positive & optimistic, also helps to alleviate existing challenges. Don't forget to keep learning and ask your seniors/supervisors and co-workers for new challenges.
Awal Jhon berkarir di Maxpower adalah sebagai driver di Navigat pada tahun 2013. Dalam perjalanannya, Jhon sempat pindah ke Navigat Group Consulting kemudian ke PT Maxpower Indonesia (MPI) sebagai driver dan membantu beberapa tugas administrasi Departemen General Affair yang berlokasi di Branch Office Batam.
Pada bulan Desember 2021, Jhon mendapatkan informasi internal recruitment sebagai Warehouse & Exim Staff NEI melalui Internal Job Posting yang dikirim oleh Human Capital. Atas saran dari rekan kerja yaitu Aditya, Jhon akhirnya bersedia untuk mengikuti recruitment tersebut.
Secara efektif Jhon menduduki posisi Warehouse & Exim Staff NEI per bulan Januari 2022, dan di Agustus 2022 Jhon pindah menjadi Warehouse & Exim Staff MPI sampai dengan sekarang.
Kendala Jhon saat awal bekerja sebagai Warehouse & Exim Staff adalah belum memiliki pengalaman di bidang warehouse & logistic. Jhon juga masih belum terbiasa menggunakan perangkat elektronik seperti computer atau laptop. Namun, dengan dukungan dan bantuan dari rekan kerja dan atasan, akhirnya Jhon berhasil mengatasi challenge tersebut. Jhon juga tidak lupa untuk selalu belajar & berdoa serta aktif mengikuti training-training yang diberikan.
Sebelum bekerja, mengawali hari dengan berdoa. Kemudian berpikir positif & optimis juga membantu untuk meringankan tantangan yang ada. Jangan lupa untuk terus belajar dan bertanya ke senior/ atasan serta rekan-rekan kerja atas hal-hal yang baru.