Corporate Social Responsibility 2023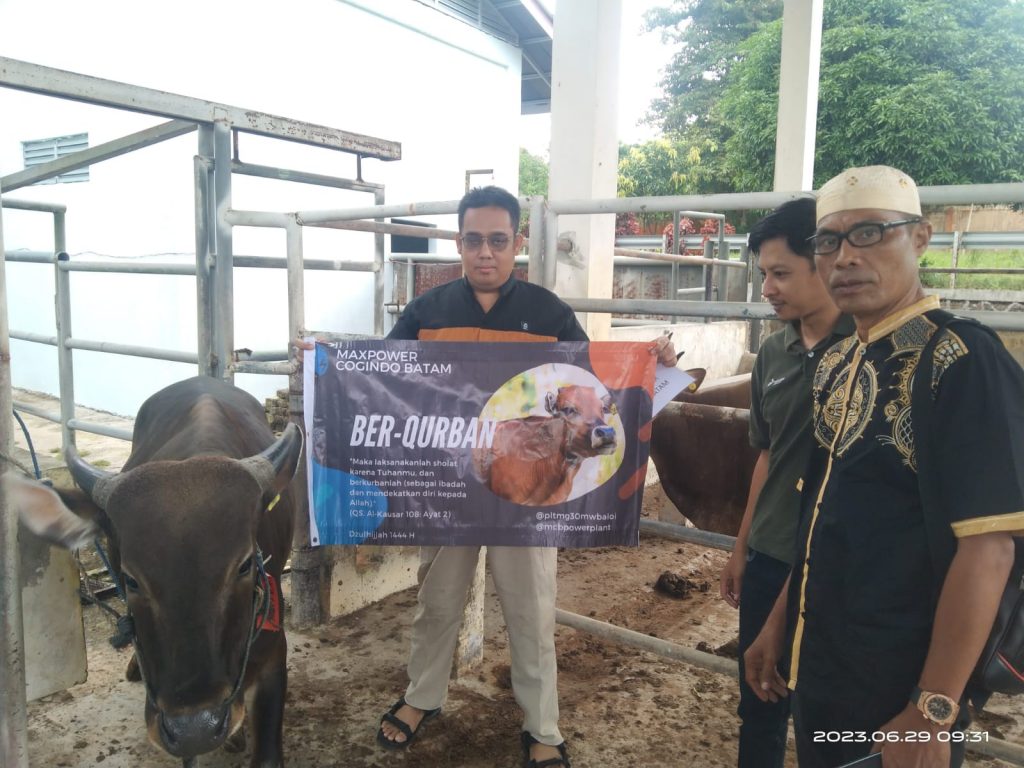 Maxpower Group and Affiliates Distribute Qurban in Commemoration of Eid al-Adha 1444 H as part of CSR Activities
[Thursday, June 29, 2023] – In commemoration of the Eid al-Adha 1444 H, which falls on Thursday, June 29, 2023, the management of Maxpower Group and its affiliates; Maxpower Indonesia, Navigat Energy Indonesia, Maxpower Cogindo Batam, and Tanjung Jabung Power, have performed Qurban by distributing livestock animals to all Maxpower sites and affiliates as part of the company's Corporate Social Responsibility (CSR) activities
The livestock animals, in the form of cows and goats, have been distributed to various areas, including Batam Kepulauan Riau, Teluk Lembu Pekanbaru, Teluk Lamong Surabaya, Tarakan in North Kalimantan, Tanjung Jabung Riau, Head Office Ampera Jakarta, and Warehouse Sunter Jakarta.
The CSR funds for this initiative were contributed by the management and through donations from the Board of Directors and Commissioners of Maxpower Group.Through this CSR activity, Maxpower Group and its affiliates aim to provide assistance to those in need, particularly during the celebration of Eid al-Adha. The company's participation in this social activity underscores its commitment to actively contribute and directly benefit the communities surrounding its operational areas.
Maxpower Group and its affiliates express their gratitude to all parties involved in this qurban donation, both internally and externally. It is hoped that this donation will bring happiness and lasting benefits to the recipients in the community.
[Kamis, 29 June, 2023] – Dalam rangka memperingati Hari Raya Idul Adha 1444 H, yang jatuh pada hari Kamis, 29 Juni 2023, manajemen Maxpower Group dan afiliasinya; Maxpower Indonesia, Navigat Energy Indonesia, Maxpower Cogindo Batam, dan Tanjung Jabung Power, telah melaksanakan Qurban dengan mendistribusikan hewan ternak ke seluruh lokasi Maxpower dan afiliasinya sebagai bagian dari kegiatan Corporate Social Responsiblity (CSR) Perusahaan.
Hewan ternak, berupa sapi dan kambing, telah didistribusikan ke berbagai area, termasuk Batam di Kepulauan Riau, Teluk Lembu di Pekanbaru, Teluk Lamong di Surabaya, Tarakan di Kalimantan Utara, Tanjung Jabung di Riau, Kantor Pusat Ampera di Jakarta, dan Gudang Sunter di Jakarta.
Dana CSR untuk inisiatif ini diberikan oleh manajemen dan melalui sumbangan dari Dewan Direksi dan Komisaris Maxpower Group. Melalui kegiatan CSR ini, Maxpower Group dan afiliasinya bertujuan untuk memberikan bantuan kepada mereka yang membutuhkan, terutama selama perayaan Hari Raya Idul Adha.
Partisipasi perusahaan dalam kegiatan sosial ini menegaskan komitmennya untuk berkontribusi secara aktif dan memberikan manfaat langsung kepada masyarakat di sekitar area operasionalnya. Maxpower Group dan afiliasinya mengucapkan terima kasih kepada semua pihak yang terlibat dalam donasi Qurban ini, baik dari internal maupun eksternal. Diharapkan donasi ini akan membawa kebahagiaan dan manfaat yang berkelanjutan bagi penerima di masyarakat.