We deliver clean, efficient, and affordable power to remote and under-supplied areas of Indonesia and Myanmar through two complimentary businesses – MAXpower and Navigat Energy
Navigat Energy is one of the largest distributors of General Electric Jenbacher power equipment in the world, with more than 1,000 MW of units installed in Indonesia, Singapore, and Thailand. We also provide services to gas-fired power operations in South East Asia
Through MAXpower, we develop, own, and operate gas-fired power plants in Indonesia and Myanmar. We currently have an installed fleet of 366MW, with an additional 83MW under construction and expected to be operational by the end of 2015
We are a vibrant and growing business. Our power generation fleet (in MW) is expected to continue its multi-year growth trend given the strong drivers for gas fired power solutions in Indonesia, with the average size of projects undertaken expected to continue to increase.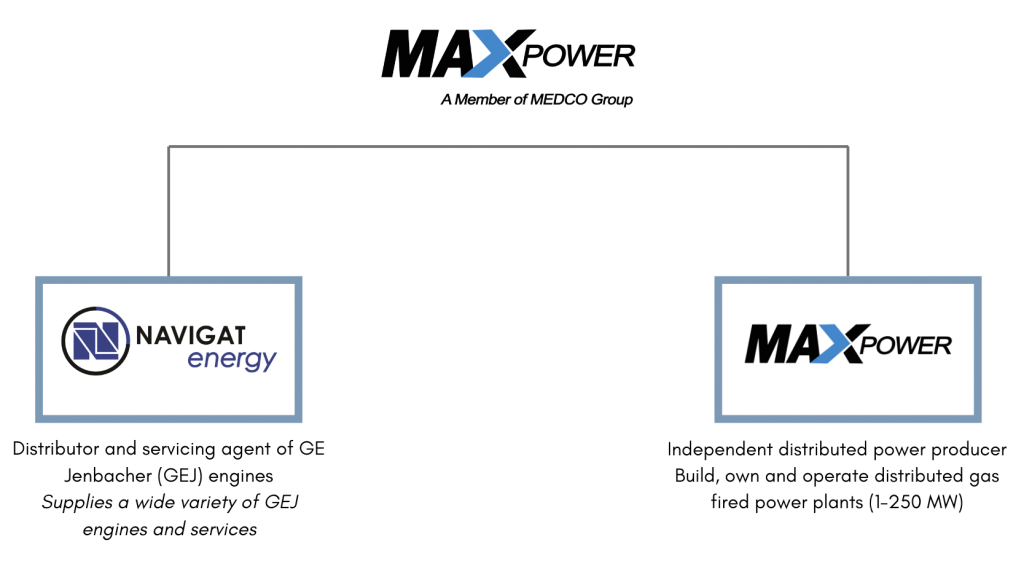 GEJ Distributor for Indonesia (since 2003), for Thailand (since 2012), or Singapore (since 2013) and Myanmar (since 2014)
~ 1,250 MW installed (including gas turbines)
Strong capabilities to install, commission and provide after services via large pool of GE certified engineers
GE-certified in-house trainers
Navigat Energy - "Providing End-to-End services"
Navigat Energy - "A Successfull GE partnership"
Navigat Energy Products - GE Jenbacher engine range
GE Jenbacher engine features
Best in class and technological advanced gas-fired engines that are primarily used for electricity generation
First developed in 1957 by Jenbacher Werke, headquartered in Austria
Highly efficient and flexible engines (i.e. can be operated with different power sources and allows heat recycling)
Runs on natural gas, landfill gas, sewage gas, biogas, mine gas, coal gas and syngas
Cost effective alternative to diesel-fired power generators
Wide power range to suit a diverse customer group
Key applications include agricultural and industrial sectors and are particularly suited to small power generation needs in Southeast Asia