Internal Program 2022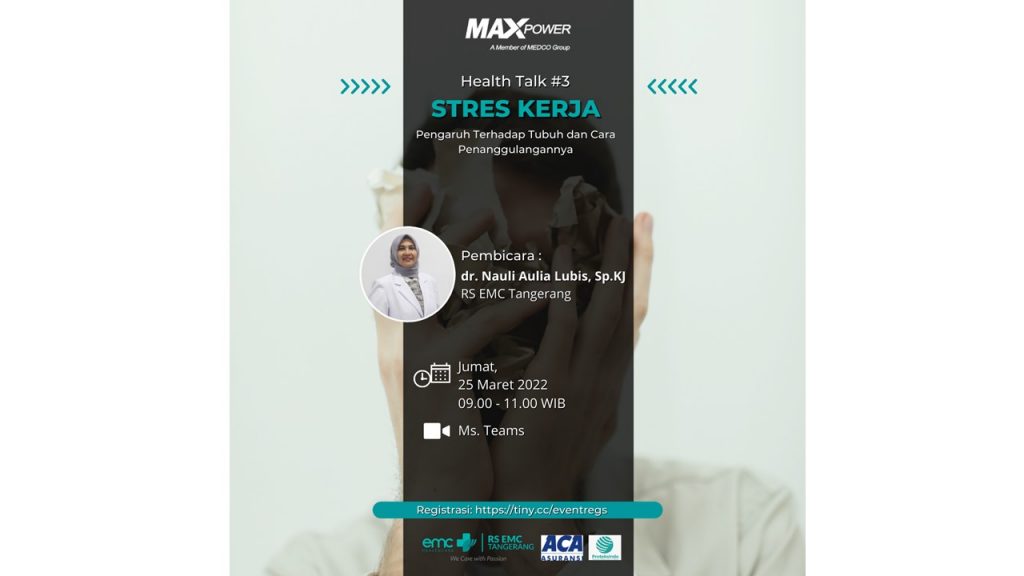 Health Talk #3 in 2022 : "Stress at Work : Signs, Causes, Symptoms and Treatment"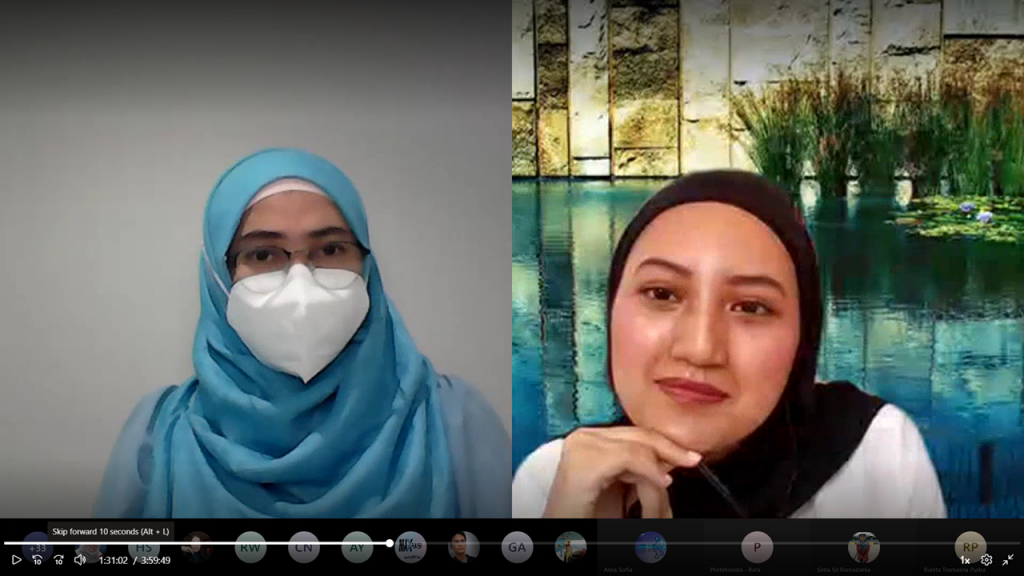 Friday, March 25, 2022/ Maxpower Group in collaboration with ACA Insurance, EMC Tangerang Hospital and Proteksindo, present Health Talk series #3 in 2022, with theme "Stress at Work: Signs, Causes, Symptoms and Treatment" by presenting speaker dr. Nauli Aulia Lubis Sp.KJ, psychiatrist from EMC Tangerang Hospital and assisted by a moderator Roxanne Akil as Corporate Communication Specialist of Maxpower Group. This event was held online on Friday, March 25, 2022, at 09.00 WIB.
On this occasion, dr. Nauli Aulia Lubis Sp.KJ explains the types of stress that need to be known & recognized. Then further dr. Nauli explained that stress in the workplace can be caused by 2 (two) factors, internal and external. The side effects of stress, apart from causing fatigue, can also disrupt the body's metabolism and immunity, which can lead to certain diseases. Hence, it is recommended to all employees to be able to deal with stress that occurs in the workplace properly, to be able to avoid things that are not desirable both soon and in the long term. And of course, the company also needs to make good plans to minimize stress in the workplace.
The next Health Talk series is planned to be held again by Human Capital team of Maxpower Group with fun and educational themes!
Jumat, 25 Maret 2022/ Maxpower Group bekerja sama dengan ACA Insurance, RS EMC Tangerang dan Proteksindo menyelenggarakan kembali Health Talk seri #3 di tahun 2022 dengan tema "Stres Kerja: Tanda, Penyebab, Gejala dan Pengobatannya" dengan menghadirkan pembicara dr. Nauli Aulia Lubis Sp.KJ, spesialis penyakit kejiwaan RS EMC Tangerang. Acara ini diselenggarakan secara daring pada hari Jumat, 25 Maret 2022 pada pukul 09.00 WIB dibantu oleh moderator yaitu Roxanne Akil selaku Corporate Communication Specialist Maxpower Group.
Dalam kesempatan ini, dr. Nauli Aulia Lubis Sp.KJ menjelaskan tipe-tipe dari stress yang perlu diketahui & dikenali. Kemudian lebih lanjut dr. Nauli menjelaskan mengenai penyebab stres di tempat kerja dapat disebabkan oleh 2 (dua) faktor yaitu internal dan eksternal. Efek samping dari stres juga selain dapat menyebabkan kelelahan juga dapat menganggu metabolisme dan imunitas tubuh, sehingga dapat menyebabkan munculnya penyakit tertentu. Sehingga disarankan kepada seluruh karyawan untuk dapat menanggulangi segera stres yang terjadi di tempat kerja dengan baik, untuk dapat menghindari hal-hal yang tidak diinginkan baik dalam waktu dekat dan jangka waktu panjang. Dan tentunya perusahaan juga perlu membuat rencana-rencana yang baik untuk meminimalisir terjadinya stres di tempat kerja.
Seri Health Talk lanjutan rencananya akan diselenggarakan kembali oleh tim Human Capital Maxpower dengan tema-tema yang fun dan juga tentu edukatif!